Whether you've been struck with a moment of inspiration or you've carried a story inside you for years, you're here because you want to start writing fiction. From developing flesh-and-bone characters to worlds as real as our own, good fiction is hard to write, and getting the first words onto the blank page can be daunting.
Daunting, but not impossible. Although writing good fiction takes time, with a few fiction writing tips and your first sentences written, you'll find that it's much easier to get your words on the page.
Let's break down fiction to its essential elements. We'll investigate the individual components of fiction writing—and how, when they sit down to write, writers turn words into worlds. Then, we'll turn to instructor Jack Smith and his thoughts on combining these elements into great works of fiction. But first, what are the elements of fiction writing?
Introduction to Fiction Writing: The Six Elements of Fiction
Before we delve into any writing tips, let's review the essentials of creative writing in fiction. Whether you're writing flash fiction, short stories, or epic trilogies, most fiction stories require these six components:
Plot: the "what happens" of your story.
Characters: whose lives are we watching?
Setting: the world that the story is set in.
Point of View: from whose eyes do we see the story unfold?
Theme: the "deeper meaning" of the story, or what the story represents.
Style: how you use words to tell the story.
It's important to recognize that all of these elements are intertwined. You can't build the setting without writing it through a certain point of view; you can't develop important themes with arbitrary characters, etc. We'll get into the relationship between these elements later, but for now, let's explore how to use each element to write fiction.
1. Fiction Writing Tip: Developing Fictional Plots
Plot is the series of causes and effects that produce the story as a whole. Because A, then B, then C—ultimately leading to the story's climax, the result of all the story's events and character's decisions.
If you don't know where to start your story, but you have a few story ideas, then start with the conflict. Some novels take their time to introduce characters or explain the world of the piece, but if the conflict that drives the story doesn't show up within the first 15 pages, then the story loses direction quickly.
That's not to say you have to be explicit about the conflict. In Harry Potter, Voldemort isn't introduced as the main antagonist until later in the first book; the series' conflict begins with the Dursley family hiding Harry from his magical talents. Let the conflict unfold naturally in the story, but start with the story's impetus, then go from there.
2. Fiction Writing Tip: Creating Characters
Think far back to 9th grade English, and you might remember the basic types of story conflicts: man vs. nature, man vs. man, and man vs. self. The conflicts that occur within stories happen to its characters—there can be no story without its people. Sometimes, your story needs to start there: in the middle of a conversation, a disrupted routine, or simply with what makes your characters special.
There are many ways to craft characters with depth and complexity. These include writing backstory, giving characters goals and fatal flaws, and making your characters contend with complicated themes and ideas. This guide on character development will help you sort out the traits your characters need, and how to interweave those traits into the story.
3. Fiction Writing Tip: Give Life to Living Worlds
Whether your story is set on Earth or a land far, far away, your setting lives in the same way your characters do. In the same way that we read to get inside the heads of other people, we also read to escape to a world outside of our own. Consider starting the story with what makes your world live: a pulsing city, the whispered susurrus of orchards, hills that roil with unsolved mysteries, etc. Tell us where the conflict is happening, and the story will follow.
4. Fiction Writing Tip: Play With Narrative Point of View
Point of view refers to the "cameraman" of the story—the vantage point we are viewing the story through. Maybe you're stuck starting your story because you're trying to write it in the wrong person. There are four POVs that authors work with:
First person—the story is told from the "I" perspective, and that "I" is the protagonist.
First person peripheral—the story is told from the "I" perspective, but the "I" is not the protagonist, but someone adjacent to the protagonist. (Think: Nick Carraway, narrator of The Great Gatsby.)
Second person—the story is told from the "you" perspective. This point of view is rare, but when done effectively, it can create a sense of eeriness or a personalized piece.
Third person limited—the story is told from the "he/she/they" perspective. The narrator is not directly involved in the lives of the characters; additionally, the narrator usually writes from the perspective of one or two characters.
Third person omniscient—the story is told from the "he/she/they" perspective. The narrator is not directly involved in the lives of the characters; additionally, the narrator knows what is happening in each character's heads and in the world at large.
If you can't find the right words to begin your piece, consider switching up the pronouns you use and the perspective you write from. You might find that the story flows onto the page from a different point of view.
5. Fiction Writing Tip: Use the Story to Investigate Themes
Generally, the themes of the story aren't explored until after the aforementioned elements are established, and writers don't always know the themes of their own work until after the work is written. Still, it might help to consider the broader implications of the story you want to write. How does the conflict or story extend into a bigger picture?
Let's revisit Harry Potter's opening scenes. When we revisit the Dursleys preventing Harry from knowing about his true nature, several themes are established: the meaning of family, the importance of identity, and the idea of fate can all be explored here. Themes often develop organically, but it doesn't hurt to consider the message of your story from the start.
6. Fiction Writing Tip: Experiment With Words
Style is the last of the six fiction elements, but certainly as important as the others. The words you use to tell your story, the way you structure your sentences, how you alternate between characters, and the sounds of the words you use all contribute to the mood of the work itself.
If you're struggling to get past the first sentence, try rewriting it. Write it in 10 words or write it in 200 words; write a single word sentence; experiment with metaphors, alliteration, or onomatopoeia. Then, once you've found the right words, build from there, and let your first sentence guide the style and mood of the narrative.
Now, let's take a deeper look at the craft of fiction writing. The above elements are great starting points, but to learn how to start writing fiction, we need to examine the craft of combining these elements.
Here are instructor Jack Smith's thoughts on the elements of fiction writing.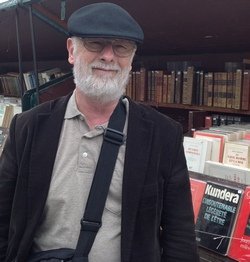 Primer on the Elements of Fiction Writing
First, before we get into the craft of fiction writing, it's important to understand the elements of fiction. You don't need to understand everything about the craft of fiction before you start keying in ideas or planning your novel. But this primer will be something you can consult if you need clarification on any term (e.g., point of view) as you learn how to start writing fiction.
The Elements of Fiction Writing
A standard novel runs between 80,000 to 100,000 words. A short novel, going by the National Novel Writing Month, is at least 50,000. To begin with, don't think about length—think about development. Length will come. It is true that some works lend themselves more to novellas, but if that's the case, you don't want to pad them to make a longer work. If you write a plot summary—that's one option on getting started writing fiction—you will be able to get a fairly good idea about your project as to whether it lends itself to a full-blown novel.
For now, let's think about the various elements of fiction—the building blocks.
Writing Fiction: Your Protagonist
Readers want an interesting protagonist, or main character. One that seems real, that deals with the various things in life we all deal with. If the writer makes life too simple, and doesn't reflect the kinds of problems we all face, most readers are going to lose interest.
Don't cheat it. Make the work honest. Do as much as you can to develop a character who is fully developed, fully real—many-sided. Complex. In Aspects of the Novel, E.M Forster called this character a "round" character. This character is capable of surprising us. Don't be afraid to make your protagonist, or any of your characters, a bit contradictory. Most of us are somewhat contradictory at one time or another. The deeper you see into your protagonist, the more complex, the more believable they will be.
If a character has no depth, is merely "flat," as Forster terms it, then we can sum this character up in a sentence: "George hates his ex-wife." This is much too limited. Find out why. What is it that causes George to hate his ex-wife? Is it because of something she did or didn't do? Is it because of a basic personality clash? Is it because George can't stand a certain type of person, and he didn't realize, until too late, that his ex-wife was really that kind of person? Imagine some moments of illumination, and you will have a much richer character than one who just hates his ex-wife.
And so… to sum up: think about fleshing out your protagonist as much as you can. Consider personality, character (or moral makeup), inclinations, proclivities, likes, dislikes, etc. What makes this character happy? What makes this character sad or frustrated? What motivates your character? Readers don't want to know only what—they want to know why.
Usually, readers want a sympathetic character, one they can root for. Or if not that, one that is interesting in different ways. You might not find the protagonist of The Girl on the Train totally sympathetic, but she's interesting! She's compelling.
Here's an article I wrote on what makes a good protagonist.
Now, we're ready for a key question: what is your protagonist's main goal in this story? And secondly, who or what will stand in the way of your character achieving this goal?
There are two kinds of conflicts: internal and external. In some cases, characters may not be opposing an external antagonist, but be self-conflicted. Once you decide on your character's goal, you can more easily determine the nature of the obstacles that your protagonist must overcome. There must be conflict, of course, and stories must involve movement. Things go from Phase A to Phase B to Phase C, and so on. Overall, the protagonist begins here and ends there. She isn't the same at the end of the story as she was in the beginning. There is a character arc.
I spoke of character arc. Now let's move on to plot, the mechanism governing the overall logic of the story. What causes the protagonist to change? What key events lead up to the final resolution?
But before we go there, let's stop a moment and think about point of view, the lens through which the story is told.
Writing Fiction: Point of View as Lens
Is this the right protagonist for this story? Is this character the one who has the most at stake? Does this character have real potential for change? Remember, you must have change or movement—in terms of character growth—in your story. Your character should not be quite the same at the end as in the beginning. Otherwise, it's more of a sketch.
Such a story used to be called "slice of life." For example, what if a man thinks his job can't get any worse—and it doesn't? He started with a great dislike for the job, for the people he works with, just for the pay. His hate factor is 9 on a scale of 10. He doesn't learn anything about himself either. He just realizes he's got to get out of there. The reader knew that from page 1.
Choose a character who has a chance of undergoing change of some kind. The more complex the change, the better. Characters that change are dynamic characters, according to E. M. Forster. Characters that remain the same are static characters. Be sure your protagonist is dynamic.
Okay, an exception: Let's say your character resists change—that can involve some sort of movement—the resisting of change.
Here's another thing to look at on protagonists—a blog I wrote:
https://elizabethspanncraig.com/writing-tips-2/creating-strong-characters-typical-challenges/
Writing Fiction: Point of View and Person
Usually when we think of point of view, we have in mind the choice of person: first, second, and third. First person provides intimacy. As readers we're allowed into the I-narrator's mind and heart. A story told from the first person can sometimes be highly confessional, frank, bold. Think of some of the great first-person narrators like Huck Finn and Holden Caulfield. With first person we can also create narrators that are not completely reliable, leading to dramatic irony: we as readers believe one thing while the narrator believes another. This creates some interesting tension, but be careful to make your protagonist likable, sympathetic. Or at least empathetic, someone we can relate to.
What if a novel is told in first person from the point of view of a mob hit man? As author of such a tale, you probably wouldn't want your reader to root for this character, but you could at least make the character human and believable. With first person, your reader would be constantly in the mind of this character, so you'd need to find a way to deal with this sympathy question. First person is a good choice for many works of fiction, as long as one doesn't confuse the I-narrator with themselves. It may be a temptation, especially in the case of fiction based on one's own life—not that it wouldn't be in third person narrations. But perhaps even more with a first person story: that character is me. But it's not—it's a fictional character.
Check out my article on writing autobiographical fiction, which appeared in The Writer magazine.
https://www.writermag.com/2018/07/31/filtering-fact-through-fiction/
Third person provides more distance. With third person, you have a choice between three forms: omniscient, limited omniscient, and objective or dramatic. If you get outside of your protagonist's mind and enter other characters' minds, you are being omniscient or godlike. If you limit your access to your protagonist's mind only, this is limited omniscience. Let's consider these two forms of third-person narrators before moving on to the objective or dramatic POV.
The omniscient form is rather risky, but it is certainly used, and it can certainly serve a worthwhile function. With this form, the author knows everything that has occurred, is occurring, or will occur in a given place, or in given places, for all the characters in the story. The author can provide historical background, look into the future, and even speculate on characters and make judgments. This point of view, writers tend to feel today, is more the method of nineteenth-century fiction, and not for today. It seems like too heavy an authorial footprint. Not handled well—and it is difficult to handle well—the characters seem to be pawns of an all-knowing author.
Today's omniscience tends to take the form of multiple points of view, sometimes alternating, sometimes in sections. An author is behind it all, but the author is effaced, not making an appearance. BUT there are notable examples of well-handled authorial omniscience–read Nobel-prize winning Jose Saramago's Blindness as a good example.
For more help, here's an article I wrote on the omniscient point of view for The Writer:
https://www.writermag.com/improve-your-writing/fiction/omniscient-pov/
The limited omniscient form is typical of much of today's fiction. You stick to your protagonist's mind. You see others from the outside. Even so, you do have to be careful that you don't get out of this point of view from time to time, and bring in things the character can't see or observe—unless you want to stand outside this character, and therein lies the omniscience, however limited it is.
But anyway, note the difference between: "George's smiles were very welcoming" and "George felt like his smiles were very welcoming"—see the difference? In the case of the first, we're seeing George from the outside; in the case of the second, from the inside. It's safer to stay within your protagonist's perspective as much as possible and not describe them from the outside. Doing so comes off like a point-of-view shift. Yet it's true that in some stories, the narrator will describe what the character is wearing, tell us what his hopes and dreams are, mention things he doesn't know right now but will later—and perhaps, in rather quirky stories, the narrator will even say something like "Our hero…" This can work, and has, if you create an interesting narrative voice. But it's certainly a risk.
The dramatic or objective point of view is one you'll probably use from time to time, but not throughout your whole novel. Hemingway's "Hills like White Elephants" is handled with this point of view. Mostly, with maybe one exception, all we know is what the characters say and do, as in a play. Using this point of view from time to time in a longer work can certainly create interest. You can intensify a scene sometimes with this point of view. An interesting back and forth can be accomplished, especially if the dialogue is clipped.
I've saved the second-person point of view for the last. I would advise you not to use this point of view for an entire work. In his short novel Bright Lights, Big City, Jay McInerney famously uses this point of view, and with some force, but it's hard to pull off. In lesser hands, it can get old. You also cause the reader to become the character. Does the reader want to become this character? One problem with this point of view is it may seem overly arty, an attempt at sophistication. I think it's best to choose either first or third.
Here's an article I wrote on use of second person for The Writer magazine. Check it out if you're interested.
https://www.writermag.com/2016/11/02/second-person-pov/
Writing Fiction: Protagonist and Plot and Structure
We come now to plot, keeping in mind character. You might consider the traditional five-stage structure: exposition, rising action, crisis and climax, falling action, and resolution. Not every plot works this way, but it's a tried-and-true structure. Certainly a number of pieces of literature you read will begin in media res—that is, in the middle of things. Instead of beginning with standard exposition, or explanation of the condition of the protagonist's life at the story's starting point, the author will begin with a scene. But even so, as in Jerzy Kosiński's famous novella Being There, which begins with a scene, we'll still pick up the present state of the character's life before we see something that complicates it or changes the existing equilibrium. This so-called complication can be something apparently good—like winning the lottery—or something decidedly bad—like losing a huge amount of money at the gaming tables. One thing is true in both cases: whatever has happened will cause the character to change. And so now you have to fill in the events that bring this about.
How do you do that? One way is to write a chapter outline to prevent false starts. But some writers don't like plotting in this fashion, but want to discover as they write. If you do plot your novel in advance, do realize that as you write, you will discover a lot of things about your character that you didn't have in mind when you first set pen to paper. Or fingers to keyboard. And so, while it's a good idea to do some planning, do keep your options open.
Let's think some more about plot. To have a workable plot, you need a sequence of actions or events that give the story an overall movement. This includes two elements which we'll take up later: foreshadowing and echoing (things that prepare us for something in the future and things that remind us of what has already happened). These two elements knit a story together.
Think carefully about character motivations. Some things may happen to your character; some things your character may decide to do, however wisely or unwisely. In the revision stage, if not earlier, ask yourself: What motivates my character to act in one way or another? And ask yourself: What is the overall logic of this story? What caused my character to change? What were the various forces, whether inner or outer, that caused this change? Can I describe my character's overall arc, from A to Z?  Try to do that. Write a short paragraph. Then try to write down your summary in one sentence, called a log line in film script writing, but also a useful technique in fiction writing as well. If you write by the discovery method, you probably won't want to do this in the midst of the drafting, but at least in the revision stage, you should consider doing so.
With a novel you may have a subplot or two. Assuming you will, you'll need to decide how the plot and the subplot relate. Are they related enough to make one story? If you think the subplot is crucial for the telling of your tale, try to say why—in a paragraph, then in a sentence.
Here's an article I wrote on structure for The Writer:
https://www.writermag.com/improve-your-writing/revision-grammar/find-novels-structure/
Writing Fiction: Setting
Let's move on to setting. Your novel has to take place somewhere. Where is it? Is it someplace that is particularly striking and calls for a lot of solid description? If it's a wilderness area where your character is lost, give your reader a strong sense for the place. If it's a factory job, and much of the story takes place at the worksite, again readers will want to feel they're there with your character, putting in the hours. If it's an apartment and the apartment itself isn't related to the problems your character is having, then there's no need to provide that much detail. Exception: If your protagonist concentrates on certain things in the apartment and begins to associate certain things about the apartment with their misery, now there's reason to get concrete. Take a look, when you have a chance, at the short story "The Yellow Wall-Paper." It's not an apartment—it's a house—but clearly the setting itself becomes important when it becomes important to the character. She reads the wallpaper as a statement about her own condition.
Here's the URL for "The Yellow Wall-Paper":
https://www.nlm.nih.gov/theliteratureofprescription/exhibitionAssets/digitalDocs/The-Yellow-Wall-Paper.pdf
Sometimes setting is pretty important; sometimes it's much less important. When it doesn't serve a purpose to describe it, don't, other than to give the reader a sense for where the story takes place. If you provide very many details, even in a longer work like a novel, the reader will think that these details have some significance in terms of character, plot, or theme—or all three. And if they don't, why are they there? If setting details are important, be selective. Provide a dominant impression. More on description below.
If you're interested, here's a blog on setting I wrote for Writers.com:
https://writers.com/what-is-the-setting-of-a-story
Writing Fiction: Theme and Idea
Most literary works have a theme or idea. It's possible to decide on this theme before you write, as you plan out your novel. But be careful here. If the theme seems imposed on the work, the novel will lose a lot of force. It will seem—and it may well be—engineered by the author much like a nonfiction piece, and lose the felt experience of the characters.
Theme must emerge from the work naturally, or at least appear to do so. Once you have a draft, you can certainly build ideas that are apparent in the work, and you can even do this while you're generating your first draft. But watch out for overdoing it. Let the characters (what they do, what they say) and the plot (the whole storyline with its logical connections) contribute on their own to the theme. Also you can depend on metaphors, similes, and analogies to point to the theme—as long as these are not heavy-handed. Avoid authorial intrusion, authorial impositions of any kind. If you do end up creating a simile, metaphor, or analogy through rational thinking, make sure it sounds natural. That's not easy, of course.
Writing Fiction: Handling Scenes
Keep a few things in mind about writing scenes. Not every event deserves a whole scene, maybe only a half-scene, a short interaction between characters. Scenes need to do two things: reveal character and advance plot. If a scene seems to stall out and lack interest, in the revision mode you might try using narrative summary instead (see below).
Good fiction is strongly dramatic, calling for scenes, many of them scenes with dialogue and action. Scenes need to involve conflict of some kind. If everyone is happy, that's probably going to be a dull scene. Some scenes will be narrative, without dialogue. You need some interesting action to make these work.
Let's consider scenes with dialogue.
The best dialogue is speech that sounds natural, and yet isn't. Everything about fiction is an artifice, including speech. But try to make it sound real. The best way to do this is to "hear" the voices in your head and transcribe them. Take dictation. If you can do this, whole conversations will seem very real, believable. If you force what each character has to say, and plan it out too much, it will certainly sound planned out, and not real at all. Not that in the revision mode you can't doctor up the speech here and there, but still, make sure it comes off as natural sounding.
Some things to think about when writing dialogue: people usually speak in fragments, interrupt each other, engage in pauses, follow up a question with a comment that takes the conversation off course (non sequiturs). Note these aspects of dialogue in the fiction you read.
Also, note how writers intersperse action with dialogue, setting details, and character thoughts. As far as the latter goes, though, if you'll recall, I spoke of the dramatic point of view, which doesn't get into a character's mind but depends instead on what characters do and say, as in a play. You may try this point of view out in some scenes to make them really move.
One technique is to use indirect dialogue, or summary of what a character said, not in the character's own words. For instance: Bill made it clear that he wasn't going to the city after all. If anybody thought that, they were wrong.
Now and then you'll come upon dialogue that doesn't use the standard double quotes, but perhaps a single quote (this is British), or dashes, or no punctuation at all. The latter two methods create some distance from the speech. If you want to give your work a surreal quality, this certainly adds to it. It also makes it seem more interior.
One way to kill good dialogue is to make characters too obviously expository devices—that is, functioning to provide background or explanations of certain important story facts. Certainly characters can serve as expository devices, but don't be too heavy-handed about this. Don't force it like the following:
"We always used to go to the beach, you recall? You recall how first we would have breakfast, then take a long walk on the beach, and then we would change into our swimsuits, and spend an hour in the water. And you recall how we usually followed that with a picnic lunch, maybe an hour later."
This sounds like the character is saying all this to fill the reader in on backstory. You'd need a motive for the utterance of all of these details—maybe sharing a memory?
But the above sounds stilted, doesn't it?
One final word about dialogue. Watch out for dialogue tags that tell but don't show. Here's an example:
"Do you think that's the case," said Ted, hoping to hear some good news.
"Not necessarily," responded Laura, in a barky voice.
"I just wish life wasn't so difficult," replied Ted.
If you're going to use a tag at all—and many times you don't need to—use "said." Dialogue tags like the above examples can really kill the dialogue.
Writing Fiction: Writing Solid Prose
Narrative summary: As I've stated above, not everything will be a scene. You'll need to write narrative summary now and then. Narrative summary telescopes time, covering a day, a week, a month, a year, or even longer. Often it will be followed up by a scene, whether a narrative scene or one with dialogue. Narrative summary can also relate how things generally went over a given period. You can write strong narrative summary if you make it specific and concrete—and dramatic. Also, if we hear the voice of the writer, it can be interesting—if the voice is compelling enough.
Exposition: It's the first stage of the 5-stage plot structure, where things are set up prior to some sort of complication, but more generally, it's a prose form which tells or informs. You use exposition when you get inside your character, dealing with his or her thoughts and emotions, memories, plans, dreams. This can be difficult to do well because it can come off too much like authorial "telling" instead of "showing," and readers want to feel like they're experiencing the world of the protagonist, not being told about this world. Still, it's important to get inside characters, and exposition is often the right tool, along with narrative summary, if the character is remembering a sequence of events from the past.
Description: Description is a word picture, providing specific and concrete details to allow the reader to see, not just be told. Concreteness is putting the reader in the world of the five senses, what we call imagery. Some writers provide a lot of details, some only a few—just enough that the reader can imagine the rest. Consider choosing details that create a dominant impression—whether it's a character or a place. Similes, metaphors, and analogies help readers see people and places and can make thoughts and ideas (the reflections of your character or characters) more interesting. Not that you should always make your reader see. To do so might cause an overload of images.
Check out these two articles:
https://www.writermag.com/improve-your-writing/fiction/the-definitive-guide-to-show-dont-tell/
https://www.writermag.com/improve-your-writing/fiction/figurative-language-in-fiction/
Writing Fiction: Research
Some novels require research. Obviously historical novels do, but others do, too, like Sci Fi novels. Almost any novel can call for a little research. Here's a short article I wrote for The Writer magazine on handling research materials. It's in no way an in-depth commentary on research–but it will serve as an introduction.
https://www.writermag.com/improve-your-writing/fiction/research-in-fiction/
For a blog on novel writing, check this link at Writers.com:
https://writers.com/novel-writing-tips
For more articles I've published in The Writer, go here:
https://www.writermag.com/author/jack-smith/
How to Start Writing Fiction: Take a Writing Class!
To write a story or even write a book, fiction writers need these tools first and foremost. Although there's no comprehensive guide on how to write fiction for beginners, working with these elements of fiction will help your story bloom.
All six elements synergize to make a work of fiction, and like most works of art, the sum of these elements is greater than the individual parts. Still, you might find that you struggle with one of these elements, like maybe you're great at writing characters but not very good with exploring setting. If this is the case, then use your strengths: use characters to explore the setting, or use style to explore themes, etc.
Getting the first draft written is the hardest part, but it deserves to be written. Once you've got a working draft of a story or novel and you need an extra set of eyes, the Writers.com community is here to give feedback: take a look at our upcoming courses on fiction writing, and check out our talented writing community.
Good luck, and happy writing!