Jack Smith's MA is in creative writing, his PhD in English. He has published four novels: Miss Manners for War Criminals (2017), Being (2016), Icon (2014), and Hog to Hog, which won the 2007 George Garrett Fiction Prize and was published by Texas Review Press in 2008. He has published stories in a number of literary magazines, including Southern Review, North American Review,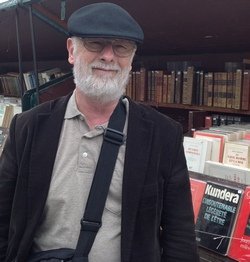 Texas Review, Xconnect, In Posse Review, and Night Train. His reviews have appeared widely in such publications as Ploughshares, Georgia Review, American Book Review, Prairie Schooner, Mid-American Review, Pleiades, the Missouri Review, Xconnect, and Environment magazine. He has published a few dozen articles in both Novel & Short Story Writer's Market and The Writer magazine.  His creative writing book, Write and Revise for Publication: A 6-Month Plan for Crafting an Exceptional Novel and Other Works of Fiction, was published in 2013 by Writer's Digest Books. A collection of his articles –Inventing the World: The Fiction Writer's Guidebook to Craft and Process – will be published by Serving House Books in 2018. His coauthored nonfiction environmental book entitled Killing Me Softly was published by Monthly Review Press in 2002. Besides his writing, Smith was fiction editor of The Green Hills Literary Lantern, an online literary magazine published by Truman State University, for 25 years.
More about Jack
Interviews I've Published:
The Writer Magazine: Writers on the novella.
Julia Alvarez interview: In the time of discovery
Russell Banks' currency
Sandra Cisneros: Close to the bull's eye
Adam Johnson: How I Write
Karl Harshbarger interview
Sue Monk Kidd: How I Write
Tim O'Brien: The things he carries
In the shadow of terror
Elizabeth Strout is there
Mark Wisniewski interview
Alice Hoffman interview
Some Articles I've Published:
Magical Realism- The Writer magazine
Writing Autobiographical fiction- Writer magazine
About DeWitt Henry
In good humor
Story study: How to conduct, manage, and cull research in fiction
When to use the second-person POV in fiction
Some Blogs I've Published:
Completing Your Novel Plot
Creating Antagonists in Your Fiction
Creating Strong Characters—Some Typical Challenges
Developing Thematic Ideas in Your Fiction
Help with Dialogue Tags
Tension & Pacing in Your Fiction
 Some Stories I've Published:
Bad Water
The Bicklers
---
Student Comments
I found the earlier exercises extremely helpful and came away feeling encouraged about my novel idea and excited to continue working on it. [Jack] was accessible and encouraging and gave excellent feedback. I would take another of his classes, perhaps when I am farther along with my project and looking for structure and feedback. I just want to say again how much I appreciated the teacher's attentive and individualized feedback and encouragement. This was my first fiction-writing experience, and it felt like a risk. I was in good hands with Jack.
Elizabeth Hawkins
Jack was very encouraging and provided me with helpful feedback. His comments are friendly but also critical, which is important with writing, as too many compliments and not enough critical opinions aren't helpful. The class content was engaging. I've already recommended the class to a friend and will continue to do so. And I'm taking another class at the moment. I've been very happy with my experience.
Shay Meinecke
This was probably the best online writing class I've taken in terms of what I learned from it and class participation. I found the lessons very useful, and will incorporate them in how I write... Jack was very thoughtful, conscientious, and informative. He did a great job with the class... I would definitely recommend your classes. This was my second class from you, and I'm enrolled in Jack's May novel writing class...I've taken online writing classes from UCLA, Gotham, Writer's Digest, and Writers.com. I must say I've really enjoyed Writers.com. Thank you!
Bill Hughes
Jack is a fantastic teacher. He is infinitely patient, doesn't take anything personally, and he is supportive without relinquishing his desire to provide us with detailed, specific, constructive criticism. I of course worked with him longer later and was very impressed with his ability to refrain from taking offense when I did not use one of his suggestions, but simply anticipate why I might be hesitant to do so and offer a solution that could satisfy the need I had which prevented me from making changes to the text to begin with. In other words, he is humble, smart, and flexible; even wise, and that is not a word I use lightly. He seems to find the balance between allowing students their own style and self-expression while correcting everything that needs to be corrected. Finally, I really appreciated in Jack his sense of humor, which is subtle and compassionate. His way of constructing a class and giving feedback allows students to feel encouraged and supported even when he is busy with correcting our text and way of working so we may become better writers. He just kept on making suggestions patiently on where and how I could use an image to help my scene, so that without even noticing, I acquired a good habit and will never again NOT think of using more visuals with descriptions. Same goes for using action instead of telling, or avoiding clichés. I hope you will use Jack for more classes in the future, he is truly a gifted teacher....
Thank you for creating and leading the best online writing website I have tried (and I have tried several).
Marcella Agh
I enjoyed [the novella class]. I also really enjoyed the suggested reading. I realized the first week I wasn't quite prepared. Jack's suggestion to beef up my outline was the best advice I could have received. It wasn't easy writing those 3000 words a week, but at least I didn't have to think "what" I needed to write about. With the outline, it came fairly easy... As for Jack ... I thought he was personable, but with just the right amount of "removed" to make a good reviewer. In my case, he pointed out things I didn't even think about and he was very supportive. He focused mostly on concept, and in a first draft, I believe this is critical. I have recommended you to other people. I am glad you are there for me.  
Anne Jennings
I found the lessons and the assignments to be inspiring and challenging.Jack gave helpful and encouraging feedback. He is a well read and accomplished writer, so his critique and input was astute. I think your offerings are fantastic. There is something for everyone, IMO. As a beginning writer, it's also nice that the classes all seem to be geared towards all levels. I can already see that you get what you put in with the classes, and that's ideal. I would definitely recommend your classes. I immediately enrolled in another class, so yes, I will probably keep taking classes with your site!
Debra Barclay
[Jack] consistently provided detailed, thoughtful and helpful feedback. I've taken many courses with Writers.com so my repeated presence says more than any words I can add.
Shawn Montgomery
Jack is excellent at gently pointing out how what you've written might not work or might not come across as authentic. His comments and suggestions are clear and very helpful. Reading other students writing and comments on their work gives depth to the whole experience. I really learned a lot from his guidance to me and to the other students. The additional reading materials Jack provided are excellent.
Louise Aiello
I was very pleased with the class. Jack gave me great feedback. I think I made real progress on my novel and hope to take this class again in March. Jack is able to point out areas where you need more development as well as compliment your writing when he feels it is good. His feedback was invaluable to me. I've already recommended this course to my writing friends. It was so practical in helping me push through the writing of a novel and it's made me believe that I will actually complete it! 
Julia Gentile