Mastering the Manuscript: Completing a Full-Length Poetry Manuscript (from Start to Finish)
with Ollie Schminkey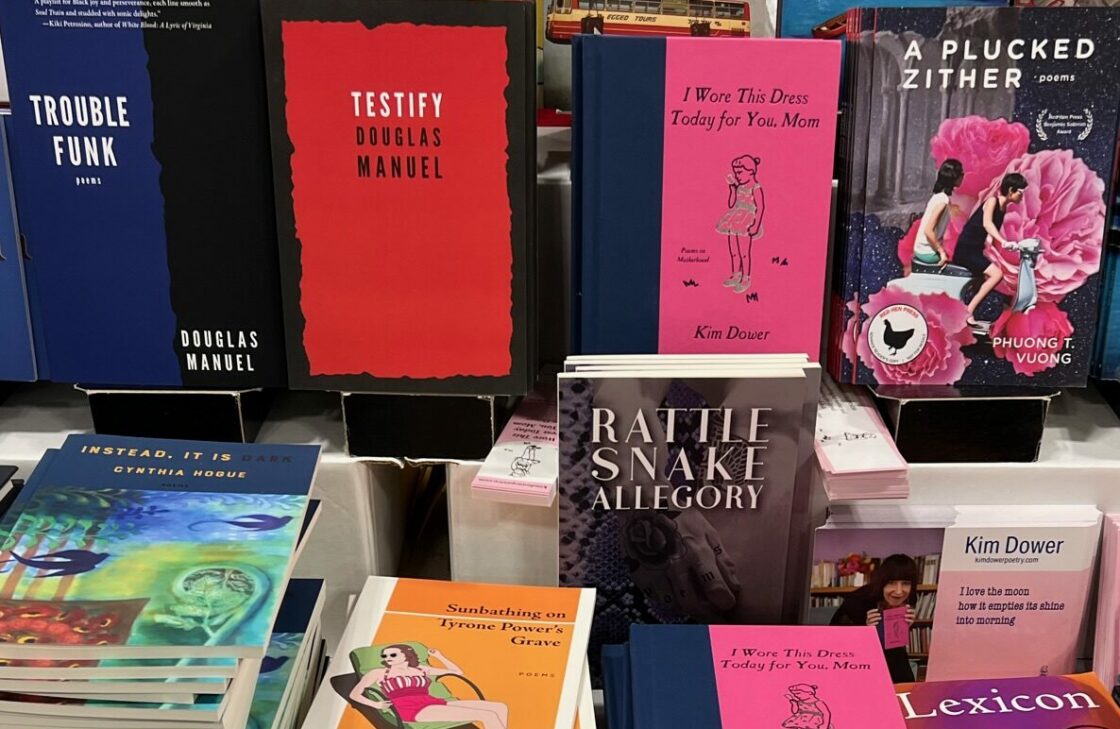 January 3, 2024 | 12 Weeks |
$695.00
Join award-winning author Ollie Schminkey for this 12-week intensive course that will provide you with all of the tools you need to draft and complete your own full-length poetry manuscript. This course will focus on not only how to write a manuscript, but how to write a good one.
We'll begin at the beginning, and you'll learn how to creating a compelling theme, structure, and organization for your manuscript (existing ideas and projects welcome, but we will be looking at those ideas and refining them to make sure they really help your book shine, so come prepared with an open mind).
Whether you are coming to this course with some poems already written or whether you are starting from scratch, you will write 30-45 new poems based off of provided prompts, some of which we will complete during our weekly meetings, but the bulk will be on your own as part of a daily/weekly writing practice (this works out to writing about 4-5 poems a week). By the end of this course, you will have a significant amount of new material that is all intentionally tailored to the theme and purpose of your manuscript.
Each week, we will meet for an hour and a half over Zoom and cover a new topic. These topics range from ideation to effective metaphors to manuscript structure to poem endings and will often include a short lesson followed by a writing exercise. You will grow your writing craft as you complete the content of your manuscript, strengthening both your ideas and your writing as you go.
This course includes significant out of class work each week (these manuscripts aren't going to write themselves!), estimated at about 1-1.5 hours per week. The bulk of this work will be writing new poems, but you will sometimes be required to edit your peers' work (never more than a few poems at a time), and to complete other assignments, including reading a full-length poetry manuscript from a published author.
During the course, you will receive global/more general edits on your entire manuscript from the instructor, and you will create a 5-poem packet that represents the manuscript, on which you will receive in-depth poem edits. At the end of the first two months, you will get peer feedback on a poem of your choice. If you would like in-depth feedback on all of your poems, this course pairs will with private coaching from Ollie Schminkey.
A few other things of note: this course focuses on the craft of the manuscript itself, and is not a course on publishing. Although you will receive some resources for publishing and you'll have an opportunity to ask any questions you have, keep in mind that this is a primarily generative course. This course is best suited to folks who are serious about completing a manuscript, although both beginners and more experienced poets are welcomed with open arms, and exercises/assignments are designed to benefit many experience levels of writers.
Ollie aims for all of their classes to be actively non-competitive, non-judgmental, pro-diversity, anti-racist, pro-LGBTQ, and extremely fun! You can expect a collaborative environment, a flexible approach to poetry, and (hopefully) a good laugh per class. Poems in this workshop will cover a wide variety of themes, some of which contain mature content and may be activating for some participants.
Learning Goals
Develop and choose a successful idea/theme/structure for your manuscript.
Understand the mechanisms of successful manuscripts, and apply those qualities to your own work.
Read and analyze one poetry manuscript that achieves goals that are similar to yours (we'll talk about how to identify and choose these manuscripts in class).
Identify presses and contests that would be a good fit for your work.
Writing Goals
Learn new writing skills and ways to improve your writing with many manuscript-specific tools.
Generate a large body (30-45 poems) of work specifically themed and designed for your manuscript, including a variety of forms and structures.
Compile a packet of 5 poems that represent the heart of the manuscript for extensive editing.
Receive and give peer feedback on two poems.
Complete your full-length manuscript and get it ready for submission for publication!
Zoom Schedule
Class will meet live on Zoom for 12 weeks on Thursdays from 6-7:30 CST (7-8:30 EST) January 4th- March 21st. Classes will include a short lecture (10 minutes), guided writing time, exercises, sharing, and group conversation.
Syllabus
Week One: Ideation and Creation!
This first week, you'll learn about different ways to come up with ideas, how to test those ideas for success, and how to choose the right one for your manuscript. We'll talk about how to determine the goal of your book, and how to tailor your manuscript to your audience. If you already have an idea for your book, you'll learn how to refine that idea. By next week, you'll have a clear theme for your manuscript, as well as any tweaks to any existing ideas. And, of course, you'll begin writing!
Week Two: Structure? I Hardly Know Her!
We'll take a deep dive into different ways to structure a manuscript. In class, we'll look at multiple formats and options, and you'll choose a book to read that achieves similar content and structure goals. (Reading this book will be due on Week Six, so you have enough time to order your chosen book if you need to). You'll also write your weekly 4-5 poems, with prompts that are specifically tailored to support the structure of your manuscript.
Week Three: The Not-So-Basics
We are going to take it back to the beginning, and you'll learn some poetry vocab (that's probably more practical and helpful than your high school English class), and we'll put that vocab to the test with examples, exercises, and tips. And, of course, you'll keep on writing.
Week Four: Metaphors and Images
We'll do a deep dive into what makes metaphors work, images shine, and poems connect with readers. We'll practice in class, learn from the greats (otherwise known as poets I personally think are great, which will be a diverse array of contemporary poets), and, of course, write!
Week Five: The "After" Poem
We'll learn how to find inspiration from other poets' work, how to properly credit them for that inspiration, and how to use that inspiration to make poems that are uniquely ours.
The homework for this week will include reading your book you chose in Week Two, and coming to class next week with some ideas of what you learned.
Week Six: Reading, Writing, and 'Rithmetic (Just Kidding, There's No Math)
We'll discuss what you learned from your books (what you loved, what you didn't), and how that will impact the future of your own manuscript. We'll write together off of a prompt inspired by the book you just read, and your weekly assignment will take inspiration from your book.
Week Seven: Gotta Try Em All–Form Poems!
We'll dive into the myriad of form options for poems, and you'll examine how different types of form poems can support your manuscript. Your weekly writing assignment will include intentionally drafting form poems that strengthen your project.
Week Eight: All Good Things Must Come to An End–How to End a Poem
You'll learn about 3 ways to effectively end a poem and leave your readers with that "wow" feeling. Of course, we'll practice in class, and of course, your weekly assignment will have you interrogating and improving your endings. This is the last generative week before we shift into editing, ordering, and finishing.
Week Nine: Finding the Heart of Your Manuscript
In class, we will check in about the progress of your manuscript, and for next week, you will compile a packet of 5 poems for intensive editing that represent the heart of your collection. You will also identify and post a "title poem" for the collection for peer editing.
Week Ten: All About Editing
You will learn some tips and tricks for giving, receiving, and completing edits. We will be taking a look at your title poems in-class and providing feedback as a group. For next week, the entire draft of your manuscript is due.
Week Eleven: Excuse Me, Waiter? All About Order
With full drafts of your manuscripts completed, you will take an in-depth look at the order of those poems, align those poems with your goal structure from Weeks 1 and 2, and identify any gaps in content/structure/etc. that still need to be written.
Week Twelve: Publication
You'll learn how to identify presses and contests that might be a good fit for your work, and you'll also get a chance to ask any questions you have about the publishing world. You'll get a guide for next steps, and, of course, we'll celebrate your new manuscript!
$695.00Enroll Now
Student Feedback for Ollie Schminkey:
Ollie was very encouraging and supportive; they not only knew their stuff, but shared feedback in a non-critical manner. This course provided an intimate and challenging opportunity for me to learn about various poetry forms/styles, as well as the experience of writing and sharing unedited, first-draft poems based on prompts provided by the instructor. It forced me to work outside my comfort zone, and that was a benefit in and of itself, outside of the class material. Arnold Doyle
Ollie is an excellent teacher, very lively, encouraging, and gives excellent suggestions and comments. Hongying Liu
One of my favorite courses so far. I love the short assignments daily, the positive feedback from the other participants, and the positive/helpful critique from the instructor. The prompts were always challenging and fun. Nichole Gavel
Ollie was a wonderful teacher. I think it was through their feedback that I gained the best understanding of how working in this kind of format can truly revolutionize your writing. Nancy LaChance
"Ollie's class was like a warm virtual hug every week. They fostered a truly lovely community of poets turned friends, and they were always so kind, present, thoughtful, and fun. I wholeheartedly endorse this class and will sign up for anything Ollie teaches in the future!"
"It is very welcoming and Ollie acts like part of the group, not a top down structure. The prompts are great and not things I would have thought of on my own."
"This class will be a catalyst for re-visioning and creating poems for a chapbook. Even if you know a lot about poetry, you will learn something new. Ollie was an amazing instructor!"
"It's an opportunity to congregate with an amazing & very charismatic poet and a group of like-minded people to talk about poetry and learn about other poets, to write a fun weekly prompt, and to learn from and edit the poems of your colleagues. It's a great time, lots of fun & laughter (some tears!), and it is a tonic to the soul."
"A fun and effective workshop for writers of any experience."