After months of writing, editing, rewriting, hair-pulling, and late-night coffee sessions, you have a finished poetry manuscript. There's only one thing standing between you and submitting your poetry for publication: the poetry manuscript format.
Poetry manuscript submissions must conform to certain formatting guidelines to even be considered by publishers.
Poetry manuscript submissions must conform to certain formatting guidelines to even be considered by publishers. Publishing houses often post guidelines for submissions and contests, but even then, there are some formatting styles you need to conform to if you want your manuscript to be taken seriously. Below are nine essential tips on how to format a poetry manuscript, as well as advice for navigating the world of publishing poetry; but first, let's understand the two types of poetry publishing opportunities that exist.
Free Resource: Formatted Poetry Manuscript Example
As you read the guidelines on how to format a poetry manuscript below, follow along with a free resource: an appropriately formatted, editable example poetry manuscript with a cover page and a table of contents.
The editable manuscript is in .docx (Word document) format. You can download it for free here:
Poetry Manuscript Format Tips
Ready to submit a poetry manuscript? Then let's get to formatting! Many publishers won't consider your poetry manuscript submissions if they don't adhere to the following 9 poetry manuscript format tips.
1. Start With a Cover Sheet
The first page of your poetry manuscript should be a cover sheet. The cover sheet is mostly a formality, but it includes all of the important information a publisher needs to contact you. On top of your name and the title of your manuscript, a cover sheet includes your phone number, email, and physical address. Here's a great example of a cover sheet, though a quick web search should show you the general page format.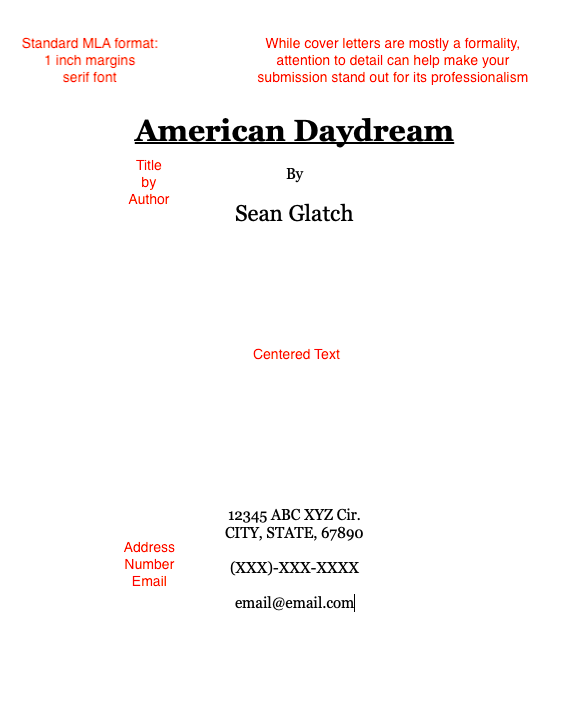 Above is an example of a cover sheet which I submitted for a chapbook content a couple years back. Your cover sheet doesn't need a ton of editing, but be sure to follow MLA conventions and present yourself with authority and professionalism.
2. Include Pages Numbers and a Table of Contents
After your cover sheet, a table of contents will help make a good impression on the reader. The table of contents helps the reader navigate your manuscript so they can return to the poems that they especially like. Additionally, it shows that you've taken care in the placement of each poem in the manuscript, and if your book has sections, a table of contents can highlight how the manuscript is sectioned. Placing page numbers within the manuscript will also demonstrate this care and make it much easier to create the table of contents.
Here is an example of a table of contents for a poetry manuscript. The formatting doesn't need to be fancy: you can format it left flush or centered, just use consistent copyediting and include page numbers for each work.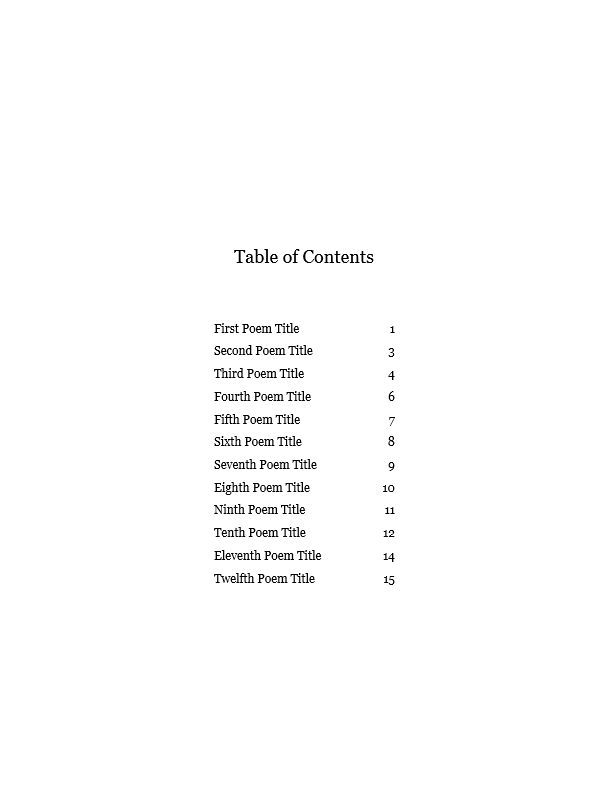 3. Include Acknowledgments to Previous Publications
Many poetry publishers will allow a fraction of the manuscript's poems to be previously published. However, you need to acknowledge those previous publications.
For example, Writers.com instructor Jonathan McClure has a poem titled "A Prayer" published in Nashville Review. If Jonathan includes this poem in a manuscript submission, he would want to write in the acknowledgments page that "'A Prayer' is previously featured in Nashville Review."
4. Start Each Poem on a New Page
Start each poem with a properly capitalized title, and be sure that only one poem occupies each page. Additionally, try to give all of your poems captivating titles. "Untitled" poems tend to show a lack of care for the poem's language, unless the subject matter of the poem has a relationship to the word "Untitled."
5. Use Clearly Defined Page Breaks
When entering your poems into the manuscript, create a new page by clicking "page break" in the word editor you use. Most word editors list "page break" under the "Insert" tab. Page breaks make it much easier to edit your manuscript, because if you start a new page by hitting enter several times, then the changes you make to one poem will affect how the poems are formatted on every other page. Additionally, repeatedly hitting enter can mess up the formatting on the document when you finally click submit.
6. Follow MLA Style Conventions
When in doubt, MLA formatting requirements often align with poetry manuscript formatting guidelines. These formatting conventions outline how poems should be formatted in terms of their line breaks, margins, and text size. Keep the following MLA guidelines in mind:
Single space all linebreaks in the poem.
Double space between stanzas.
Input 1-inch margins on all sides.
Use a 12pt font on all text.
Use a 14pt font for the title.
Keep poems left-flush on the page, unless the text flushing has a relationship to the poem.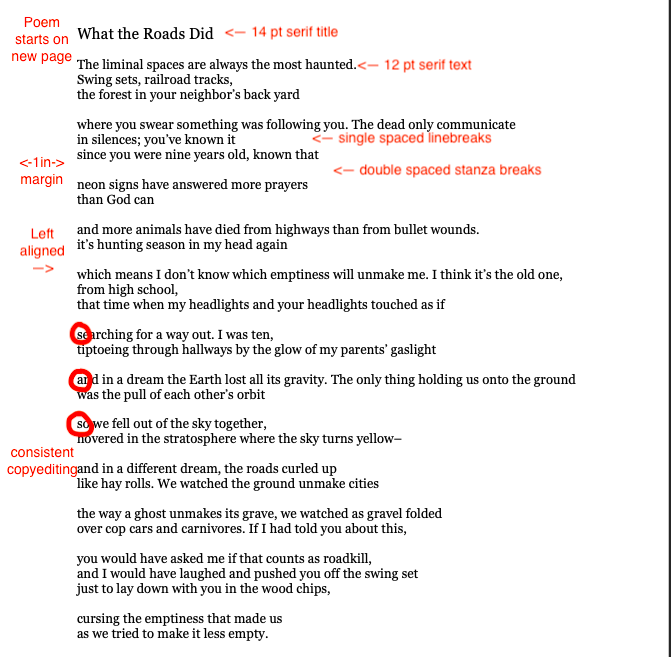 Above is a poem I published a few years ago in Bombus Press, edited to reflect the essential page formatting for a poem.
7. Use a Serif Font
Serif fonts are fonts which have small strokes at the end of longer strokes. For example, a serif capital "T" has small lines at the end of each longer line. Serif fonts—such as Times New Roman or Garamond—look much more professional, and they will not distract the reader from your work.
8. Use Consistent Copyediting
Your manuscript reader will take great care with each word in your manuscript, so they will certainly notice inconsistencies in your manuscript's spelling, punctuation, and capitalization. Do a thorough copyedit of your manuscript, and make sure it meets today's grammatical standards. Owl at Purdue has a great library of resources to check on grammar rules you're not sure of!
One important note on copyediting is how you capitalize the beginning lines of your poems. Antiquated poems capitalize the first letter of each line, even if it didn't start a new sentence. Contemporary poetry, however, does not capitalize the first letter of a line, unless it starts a new sentence. Over-capitalizing your words may make your writing seem pretentious and out-of-touch.
9. Organize Your Poems Thoughtfully
No discussion on how to format a poetry manuscript is complete without also discussing how to put together a poetry manuscript and organize your poems. A poetry manuscript is more than just a collection of well-written pieces; put together, a manuscript should offer a window into the poet's heart and tell an important story.
A poetry manuscript is more than just a collection of well-written pieces; put together, a manuscript should offer a window into the poet's heart.
For example, the poetry book Deaf Republic by Ilya Kaminsky tells a story in two acts: in the first act, the village members of an occupied town pretend to be deaf after the military kills a deaf boy. In the second act, the townspeople fight back by seducing the soldiers to their deaths. This story is told in verse, yet each poem can stand on its own while also being strung together in a cohesive narrative.
Alternatively, Sam Sax's A Guide to Undressing Your Monsters tells a story in five sections. Each section corresponds with the poet's coming-of-age as a queer man, and the poet grapples with masculinity and sexuality by characterizing himself a monster slowly unzipping.
The best way to figure out the structure of your poetry manuscript is to read other poetry books and pay attention to the way those books are formatted. Nonetheless, the following are common ways to organize a poetry manuscript.
Chronological Poetry Manuscript Formatting
The easiest way to organize your manuscript is chronologically, sorting the poems based on when they were written. This method of organization can highlight the changes you experienced as a person and as a writer; however, you may run the risk of putting less-developed poems first.
Keeping Linked Poems Together
You might organize your manuscript based on which poems fit next to each other, kind of like a puzzle. For example, you might make your first poem about love, your second poem about love and death, your third poem about death, your fourth poem about death and forgiveness, your fifth about forgiveness and family, etc.
Themes-Based Organizing
If your manuscript has obvious overarching themes, you can organize your poems based on those themes. You still need to tell a story within each section, but sectioning these poems by theme can help the reader understand the intent of your manuscript.
Braided Narratives
If you have several overarching narratives, you could braid them together and alternate poems so that these narratives coincide with each other. That way, your poetry manuscript tells a story from start to finish, but the themes and narratives of the manuscript remain fresh and exciting.
How to Publish Poetry: Read Between the Guidelines!
The most important thing you can do before submitting your poetry manuscript is read the publisher's guidelines. These will tell you specific poetry manuscript format requirements, what the poetry manuscript length should be, and any tips they can offer to successfully publish your poems. Any manuscript that doesn't meet the publisher's guidelines will likely be discarded, so don't let your hard work go to waste—read the guidelines thoroughly!
Any manuscript that doesn't meet the publisher's guidelines will likely be discarded.
With these formatting tips and the publisher's guidelines in mind, you have a great shot at getting your poetry manuscript published. If you'd like a head start on a properly formatted poetry manuscript, download our editable sample manuscript as a .docx (Word document) file:
Want to make that shot even better? Get an extra set of eyes on your manuscript from the poets in our creative writing community, or sign up for a poetry writing course to get an expert's feedback on your writing.
Good luck on getting your poetry manuscript published, and let us know if you win any publications!