(Live Workshop) Drawing Poems: the Art of Visual Poetry
with Zining Mok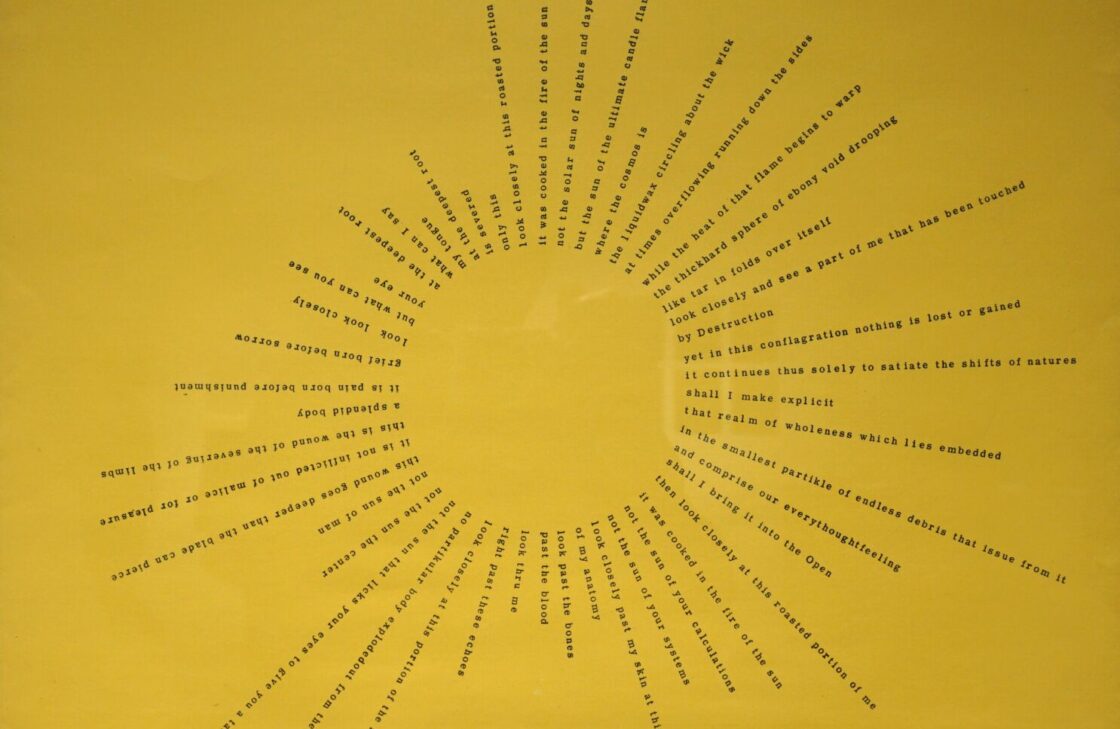 October 26, 2023 | 1 day workshop |
$115.00
What happens when we combine the brevity of poetry with the power of visuals? Drawing on the visual, some poets reinfuse the known world of typography with wonder; others capture, with the page and ink alone, a full force of experience beyond the two-dimensional world.
In this three-hour workshop, we will first explore a brief history of visual poetry. We will then read contemporary examples of visual poetry that demonstrate how visuals can be part of a poem. We will also discuss the ways in which words can function as objects to be visually configured and learn different methods of visualizing meaning in poems.
Students should come to class with a writing instrument of their own choosing. Do note, however, that it may be difficult to write visual poetry on word processors, so unless you have access to an illustration app or software, I recommend using paper and a pen or a pencil. No prior experience is necessary, but do come prepared to discuss the readings, share writing, and try new approaches to writing.
New to visual poetry? Here are some examples.
Learning and Writing Goals
Learning goals:
To develop an appreciation for visual poetry and its history
To read different examples of contemporary visual poetry
To explore how the visual can be used as a literary device in poems
Writing goals:
To apply visual poem writing techniques to our own writing through two in-workshop writing exercises.
Webinar Schedule
This webinar runs on Zoom from 7-10pm EST. The schedule is as follows:
7-8pm: Introductions and lecture.
8-9:20pm: Read examples of dream writing; do two guided writing exercises.
9:20-10pm: Share writing, Q&A, and lecture.
$115.00Enroll Now
Student Feedback for Zining Mok:
I really liked this course. It was very well laid out and covered the basics of writing poetry clearly and effectively. Zining was always kind and encouraging, but was also very good at pointing out nuanced areas for growth in my work. Tamara Kreutz
The teacher was very responsive and I benefited from her ability to target my strengths and weaknesses in a very tactful but direct way. She clearly brought a new level of artistry to my work and I will forever be grateful to her. The format was wonderful and my classmates were forthcoming and the participation was open and full. She truly improved the craft of my poetry. Zining Mok is very knowledgeable and explained many techniques, forms and structures that I was up until now unaware. I recommend this course highly!! Beverly George
Excellent. I would take the course again—the exact same one. There is so much to glean from the material presented that one pass is not enough. I Highly recommend Zining to any aspiring poet or anyone exploring poetry. Melissa Lenon
Zining's writing class was great! The group activities were awesome and because you divided us based on our topics, we were able to form groups with like-minded people and I ended up becoming really good friends with my groups. I really did enjoy this class and it showed that Zining cared about us as students and people in the way she organized it.
Zining's comments and analysis about the readings were very insightful and helped me learn.
The readings were extremely engaging and diverse, this helped me to better understand the breadth of creativity available in the genre.
Zining left herself open to getting questions after class, before class, and during class. And she replied accordingly. She was also very understanding, made me feel comfortable and understood.
Everything Zining did was incredibly helpful to me. I really enjoyed coming to this class. She made me feel more than just standardized and helped me have more confidence in my ideas and writing style. She provided amazing conferences with great feedback on our papers. I also really liked the examples she provided for us. I have already recommended her to a friend of mine who is taking this writing class next semester.
Zining is awesome, my favorite instructor this semester by far. She's very helpful and understanding and she presented the course material clearly and made class enjoyable.
I felt that Zining read each student's workshop story carefully and with enthusiasm. She included examples of other authors appropriate to a particular student's writing assignment.
Zining was very encouraging to any thoughts anyone had and created a very welcoming, positive environment.
Zining gave really good concrete feedback on all of my writing, and on my peers' writing as well. She really listened to what people said about their writing and gave suggestions based off of what they said they wanted for their pieces. I also liked the way Zining ran workshops. I think dividing the time and having certain parts designated for certain questions or comments was helpful and kept workshops organized.