A Poet's Calling Card: Writing and Composing a Chapbook
with Caitlin Scarano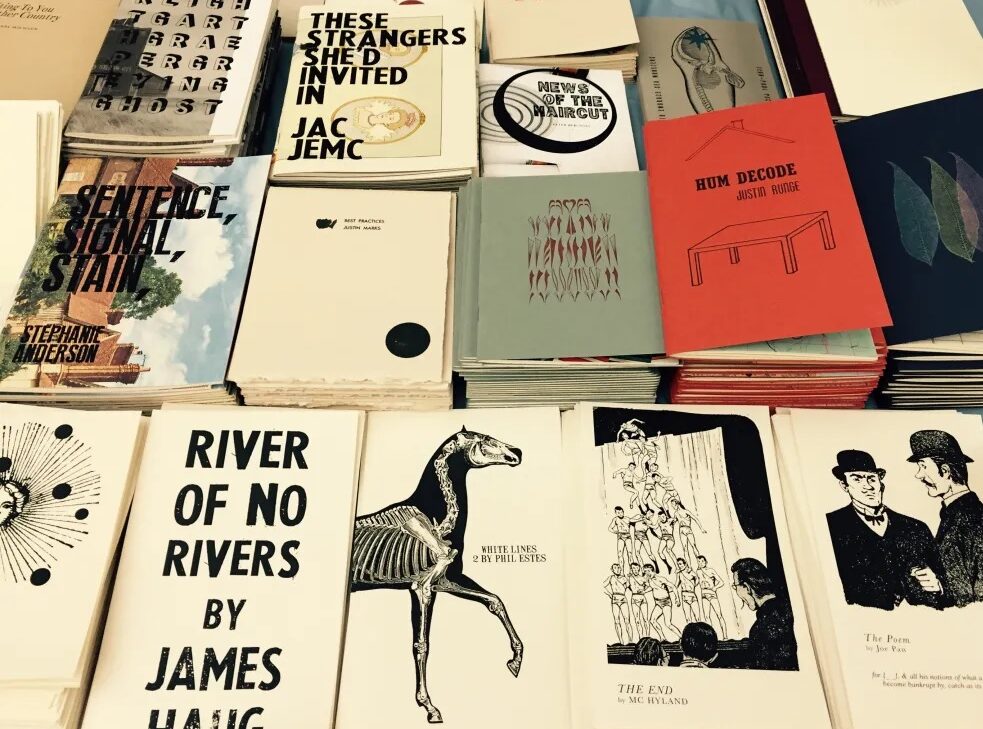 September 20, 2023 | 8 Weeks |
$495.00
What draws certain poems together? What determines a need for distillation and brevity in some manuscripts?
Typically 15-25 poems under a focused theme, a chapbook can be a site for a poet's obsessions. It can be their calling card, connect them with others, grant them legitimacy, and even serve as a stepping stone to a full-length collection. What began as a cheap, DIY way of sharing (often political or revolutionary) ideas defined by its ability to be quickly produced, distributed, consumed, and disposed of, has grown into a unique form of book art. This book art often involves letterpress, high-quality paper, hand or saddle-stitched binding, limited print runs, and other design elements and details not often seen in traditional length books.
Are you ready to write and compose a chapbook?
Join award-winning poet Caitlin Scarano and complete your poetry chapbook so you can share your work, whether that's with the world or your friends and family. This course is for poets at any stage in their chapbook development, whether you're just conceiving of an idea/theme or currently revising a full batch of poems. Students will generate new poems through weekly prompts with the option to share them.
In this course, Caitlin will guide you through a clear step-by-step process in how to:
identify and develop 1-2 focused, interesting themes
generate linked, new work toward those key themes
order, structure, and format your chapbook
identify suitable chapbook publishers and contests or
find more DIY and nontraditional printing and distribution channels
Each week we will meet on Zoom for one hour to discuss that week's topic and spend time generating new work together using specific prompts. We'll read and discuss a sampling of chapbooks. In addition, students will gain an overview of the history of the poetic chapbook, its evolution, and contemporary attributes and uses.
Please note: this is not a traditional poetry workshop. This course is designed to help you generate new work each week and gain the skills to put a chapbook together. Although everyone will have the option to share work, you will not workshop your poems or be required to provide feedback on your peers' poems. Anyone who wants to learn how to put together a chapbook of poems is welcome! This course pairs well with private coaching from Caitlin Scarano (discounted for current students) if you're interested in receiving in-depth reviews and edits on your manuscript-in-progress.
Learning and Writing Goals
Learning Goals
Brainstorm and develop clear theme(s) for your chapbook-in-progress
Read and analyze at least 2 poetry chapbooks
Learn about the history and contemporary context of the (digital and print) poetic chapbook
Gain new approaches for revision
Understand effective techniques for ordering and structuring a chapbook of poetry
Discuss the pros and cons of different publishing, printing, and distribution options specific to chapbooks
Writing Goals
Through weekly writing prompts, write up to 8 new poems for your chapbook project
Generate potential titles for your manuscript
Draft and polish a compelling description for your project
Complete (or have the tools to complete) a formatted chapbook-length manuscript of poems ready for submission for publication or DIY printing and distribution
Zoom Schedule
This course will meet on Zoom every Thursdays at 6 P.M. Eastern.
Week 1: Introductions and Overview of the Chapbook
Assignment: Write a new poem for Week 2 and read chapbook #1.
Week 2: Discussing Chapbook #1
Assignment: Write a new poem and brainstorm on your poetic obsessions/what themes you return to.
Week 3: Central Themes and Surprise
Assignment: Write a new poem OR revise a poem; print out all potential poems for project (at any draft stage.
Week 4: Anchor Poems and the Art of Ordering
Assignment: Write a new poem OR revise a poem; read chapbook #2.
Week 5: Compelling Titles and Chapbook Descriptions
Assignment: Write a new poem OR revise a poem; find at least two publishers or contests you might want to submit your manuscript to for publication.
Week 6: Submitting, Formatting, and Contests
Assignment: Write a new poem OR revise a poem.
Week 7: DIY and Nontraditional Ways of Publishing and Book Promo
Assignment: Write a new poem OR revise a poem.
Week 8: Course Wrap Up and What Comes Next
Student Feedback for Caitlin Scarano:
My writing took a huge leap in strength and clarity as a direct result of Caitlin's coaching. Her detailed attention and questions challenged me think more deeply and write better. Working with Caitlin is both fun and rewarding. Richard W.
Caitlin is one of the finest teachers I have ever had. She is very approachable and kind. I enjoyed every week that we met online and always had a clear direction as to what to work on that following week. I highly recommend any class Caitlin is teaching. Barb Santucci