Professional authors chime in on gift ideas for writers—both during the holidays and any time of year.
If you're looking for the best gifts for writers in your life, look no further. There are lots of great gifts for creative writers—you just need to get in a writer's head. With the help of some lovely authors, we've compiled this list of the best gifts for writers. Whether you're wrapping presents for a poet, novelist, essayist, journalist, screenwriter, or experimental author, one of these unique gifts for writers is sure to satisfy.
Check out these 35 gift ideas for writers in your life.
Note: This is not an affiliate article. The items below are based on recommendations from authors we surveyed, including: Lori Goshert-Shokirov, Katherine Martinelli, Julie Vick, Shana Westlake, Kate Wehr, Caitlin Manner, Shannon Lee, Risa N. McDonell, Nandita Godoble, and Cindy Marie Jenkins. Many thanks to them!
The 35 Best Gifts for Writers
These gifts for writers are sure to delight the author in your life.
1. Online Writing Courses
One of the best gifts for writers is a writing course or workshop to help them develop their writing craft. writers.com offers dozens of unique, delightful writing courses across fiction, nonfiction, and poetry. Check out the full course schedule to find what will work best for the writer in your life.
You can gift any Writers.com course, or purchase a gift card for any amount of course credit.

(If the writer in your life is working on a novel, our self-guided class The Successful Novel makes the perfect gift!)
2. A Hotel Room for the Weekend
Cheryl Strayed, author of The Wild, often binge writes in a hotel room for days at a time. A hotel stay frees the writer from parenting duties and responsibilities at home. It gives the writer the time to focus on finishing a manuscript or making notes on a memoir. The uninterrupted time is priceless, even if it's just for a day. Find hotel deals on a website like Kayak.com. And remember, the hotel room doesn't have to be far away: it's a quiet, productive space for the writer to produce their best work.
3. Fountain Pen with Ink
Some writers prefer to pen their thoughts the old school way — with pen and paper. Writer Jordan Rosenfeld loved receiving this gift during the holiday season. Make it feel like a special experience by gifting a fountain pen and ink to the writer in your life. There is nothing like a smooth pen gliding across a crisp sheet of paper, which makes this one of the best gifts for writers out there.

4. Subscriptions to Writerly Magazines
Lori Goshert-Shokirov loves that her father gifts her annual subscriptions to magazines like The Paris Review, Creative Nonfiction, and The New Yorker. It is a great way for writers to get inspired by essays, columns, poetry, and many hidden gems. These unique gifts for writers are valuable ways to remember the writer in your life and offer them something that brings more depth to their craft.
5. Writing Retreat
A writing retreat is a great way for a writer to make headway and progress on a manuscript or other long-term project. Many writing retreats span a week or two, and it can offer a writer a real chance to work in solitude and engage with other colleagues on writing-related activities. Retreats can be expensive and are often application based, but paying for a writer to go on retreat stands as one of the best gifts for writers possible.
6. Laptop Stand and Other Office Accessories
Over time, sitting too much at your desk can cause chronic pain and health issues. Writers might appreciate a laptop stand so they aren't spending all day in a stationary position. Writer Katherine Martinelli's goal is making her space feel more comfortable. She says, "A laptop stand, ergonomic keyboard, nice desk chair, chair pillow to help with posture — these are all things I've gifted myself and/or my mom (a writer). My husband got me an office chair." Whatever you buy, prioritizing an author's comfort will generate some wonderful gift ideas for writers.

7. Lego Typewriter
If you're looking to splurge on the writer in your life, writer Julie Vick recommends the Lego typewriter, priced at $200. Modeled after a vintage 1950 model with movable type, this typewriter brings a sense of fun and nostalgia to any writer's office space.

8. Aqua Notes
Some writers do their best thinking in the shower. Aqua Notes is a unique gift for writers that can help them get their thoughts down before the water turns off. It's a 40-page notepad that is completely waterproof and can be used in the shower, near the bath or out in the rain. A standout gift idea for its surprising usefulness.

9. Pencil Chocolate
A hard day of writing definitely deserves a reward. Gift the writer in your life this pencil-themed chocolate from Present and Correct. It is Scotland-made chocolate-infused cedar and pine covered with cocoa nibs. It's the best kind of treat at the end of the day, and it helps your writer celebrate reaching their daily word count. Among unique gifts for writers, this may be the tastiest.

10. Writer's Tears Whiskey
You don't need to be Truman Capote or Dorothy Parker to enjoy a good whiskey. If it helps get words on the page, Writer's Tears Whiskey might be just the drink for the writers in your life.

11. Meditation Apps
In addition to being healthy for anyone, centering activities like journaling and meditation can provide wellsprings of creative inspiration. Meditation apps like Calm or Headspace offer month-by-month subscriptions. Free trials are available for writers who want to try the apps before committing to a monthly or yearly subscription.
12. Gift Certificate for Home Cleaning
A clean home will make a writer procrastinate less and write more. A writer can't use the excuse of dirty dishes in the sink or the need to fold laundry to avoid their writing. Shana Westlake recommends a gift certificate for home cleaning, and I have to agree with her recommendation. I feel like I have more freedom to write when my house is clean. For writers who just need their writing space organized, you could hire a home organizer to help them deep clean their space.
13. Meal Delivery Kits
Writing momentum sometimes comes at unexpected times, and there might be no time to stop and make lunch or dinner. Writer Kate Wehr says, "I got gifted a meal delivery kit as a birthday thing and now I'm obsessed. It's so nice to have a basic dinner plan ready to go 2- 4 nights a week where I don't have to think about cooking all day (yay, writing brain space) and in a pinch, I can even hand a recipe card to my spouse and plop a bag on the counter. It's a huge time saver I never would have bought on my own." This is an out-of-the-box gift that most writers would love to receive.
14. Fingerless Gloves
In the winter, especially in the morning, writers may have trouble with their fingers cramping or moving too slow. And when writing inspiration strikes, it isn't a task to postpone. These Jane Austen-themed fingerless gloves might be the exact thing the writer in your life needs, as they keep both blood and words flowing through the fingers. Writer Caitlin Manner says fingerless gloves help with her cold stiff hands and her Raynaud's syndrome.

15. Bluetooth Headphones
If you're a writer who shares space with other family members, silence is likely impossible. Lori Goshert-Shokirov says "Having wireless headphones is a game-changer for me"; they're often sound-proof, they don't have distracting wires, and it's easy to get lost in the page when you barely notice you're wearing them. Some options include Apple Airpods, or a less expensive option like Lanteso TWS Bluetooth Earbuds.
16. Books on Writing
Books on writing make great gifts for aspiring writers, as a writer can open any of these works to find inspiration. Anne Lamott's Bird by Bird, Stephen King's On Writing, and Steven Pressfield's The War of Art are tried-and-true works that come to mind. I personally love Austin Kleon's Keep Going and Alexander Chee's How to Write an Autobiographical Novel: Essays. This might be one of the best inexpensive Christmas gifts for writers in your life.

17. Gift Card to a Local Bookstore
Go local and support a community bookstore. Writers love these local gems where, on top of books, they can find special writing knickknacks and other unique tchotchkes. Sometimes just visiting an indie store inspires a writer to come up with new plots or writing ideas. Use Indiebound's bookstore finder to locate independent bookstores in your state or city.
18. Blank Journals
Most writers love blank journals, and you can never have enough of them! I personally love a new journal, and I'm always excited to write in new pages because it feels like a fresh beginning. I especially love the leather bound journals from Soothi. These journals can be customized and personalized with initials or a special phrase. A writer will treasure this gift before and after they've written in it.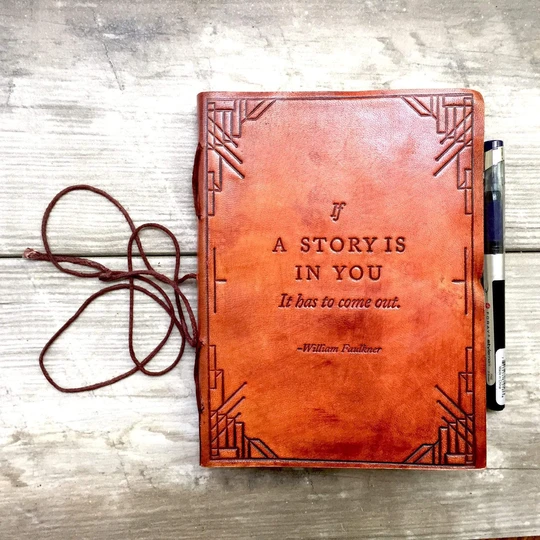 19. Post-It Notes
Sticky notes can be insanely useful, as many writers often have brilliant ideas and forget to write them down. Plus, a writer can push through writer's block by placing positive affirmations around their writing space. I have a fun cube called the Poppin Sticky Memo Ball that sits near my desk. When a thought about a flash fiction story or a nonfiction piece comes to mind, I grab a sticky note so I don't forget. Alternatively, it could be used for a positive affirmation. On a recent note, I wrote, "You got this!" and placed it next to my laptop as a reminder.
20. Charging Stand
Many writers rely on their phones to conduct interviews, post on social media, jot notes and poems, or take photographs to accompany a story. In the rush of getting words on the page, it's important that your writer's phone can last the writing journey. This charging stand is especially handy since it charges multiple devices at once.
21. Author-Themed Candles
Writers often love rituals. A part of the routine might mean lighting a candle in their space, and author theme candles can make a space feel ripe for writing. Check out these candles from Uncommon Goods — they have everything from The Great Gatsby to Pride and Prejudice. Writer Shannon Lee loves her Langston Hughes candle, which she received as a gift from Harlem Candle Company.
22. Funny Pencils
Most writers could use a daily dose of humor. Writer Risa N. McDonell says, "Whiskey River Soap Company makes hilarious Astrology Pencils (a different box for each sign) and a great set of Pencils for Writer's Block (e.g., "Try Vodka" and "Add a Vampire"). I have a set of pencils that I pull out occasionally to remind myself to laugh (especially during hard writing days)." These fun, unique gifts for writers will keep them joyful through the writing process.

23. Tea Tasting Kits
Some writers like to begin their writing routine with a warm cup of tea to ease into the page, and many writers I know won't begin their practice without either tea or coffee. Writer Nandita Godoble recommends tea tasting kits as a great gift for writers.

24. Writing-Themed Mugs
I have an entire shelf of writer's mugs. I cannot get enough of them, and the writers in your life could use one more mug, too. Kate Wehr says "I get writing and editing-themed mugs, shirts and coffee shop cards. Works for me! Inexpensive and they'll get used frequently." I have a few mugs I adore and regularly use my "Words Matter" coffee cup.

25. Writing-Themed Cards
The best gifts for writers should be paired with the best cards. Writer Cindy Marie Jenkins recommends writing-themed cards like "I Love You to the Bookstore and Back" and "Read Books and Chill." In addition to cards, stickers and totes are also available at Pretty Peacock Paperie.
26. Temporary Writer Tattoo
Maybe the writer in your life doesn't want to commit to the pain of permanent ink, but would love a few temporary tattoos as a source of inspiration. These temporary tattoos from Litographs showcase different sayings, from classics like Pride and Prejudice, Jane Eyre, Walden, and others. When the writer in your life is stuck in a writing rut, they can look at her wrist for instant inspiration.
27. Writer Shot Glasses
Why not make writing more fun with author-inspired shot glasses? These shot glasses from The Unemployed Philosophers Guide feature Lord Byron, Oscar Wilde, Dorothy Parker, Winston Churchill, W. B. Yeats, and Charles Baudelaire. They will make great gifts for writers as a colorful addition to your writer's bar—either as decor or a shot when you feel like celebrating a win.
28. Comfortable Pajamas
Your favorite writer likely stays home to read a book or spends time typing on their laptop. They may want to lounge or work in comfy pajamas. These writing-themed pajamas from CafePress feature quotes from authors and top 10 grammar pet peeves, making them the comfiest gifts for writers.
29. Writer's Clock
Sometimes inspiration to work on your writing project comes from the most unexpected places. This writer's clock from Zazzle represents the writing process in a true, humorous way. Everything from "revise" to "cry" to "wait" lets your writer move through their writing day with a sense of humor.

30. Neck and Back Massager
The writer in your life likely spends long hours at their desk. Sitting for so long brings aches and pains that a nice neck and back massage might alleviate. This massager offers a deep tissue massage and is also portable to use, not only at your office chair, but also while writing in bed.
31. Scrabble Magnets
An idea can strike anywhere for the writer, but ideas often come while they're sipping a cup of coffee in the kitchen. These Scrabble magnets can serve as instant inspiration to create random words and come up with that next short story's opening line.
32. Writer-Themed Bookends
Every writer has several books scattered all throughout the house. Having these writer bookends could immediately give a bookshelf an automatic facelift. They are also the kind of fun and stylish gifts for writers that any writer would love.
33. Writer Jewelry
This typewriter necklace is a fun trinket (that your writer friend might not buy on their own). These vintage letters hang on a sturdy chain and can be a comforting good luck charm. They're great gifts for writers who need a little luck to get words on the page.
34. Photoshoot
Every writer needs a headshot for their website. A photoshoot is a great idea, especially for the writer who needs a current snapshot for a book launch, a conference, or an update to their social media profile. Find a local photographer and make it easy for your writer friend to strike their best pose.
35. Writing Tools
Any writer can benefit from a subscription to writing tools like Grammarly, Hemingway App, Scrivener, or Pro Writing Aid. It can help the writer get an extra edge on proofreading, sentence construction, word choice, and even plot and character development. Helping your writer to actually write is certainly one of the best gifts for writers of all stripes.
Find the Best Gifts for Writers at Writers.com
Want to show the author in your life that you care? Writers.com classes make the best gifts for writers of all genres. Narrow down your shopping list with any of our upcoming creative writing courses, or purchase a gift card for future use.
Many thanks again for the input from authors Lori Goshert-Shokirov, Katherine Martinelli, Julie Vick, Shana Westlake, Kate Wehr, Caitlin Manner, Shannon Lee, Risa N. McDonell, Nandita Godoble, and Cindy Marie Jenkins.