"I found the exercises extremely helpful and came away feeling encouraged about my novel idea and excited to continue working on it. Jack was accessible and encouraging and gave excellent feedback."
—Elizabeth Hawkins
If you want to get a good start on a novel in just ten weeks, or revise a portion of a novel you've already written, this is the course for you. Give your imagination free rein, move steadily ahead, and count the pages!
Throughout Write Your Novel, you'll enjoy lectures and material from Jack, as well as encouragement and feedback from fellow students. With their support, you can expect to write up to 3,000 words per week.
By the conclusion of the course, you'll have a great start on your novel, or a significant amount of revision done on your existing draft.
Taught by Jack Smith, 2007 George Garrett Fiction Prize winner and author of Write and Revise for Publication: A 6-Month Plan for Crafting an Exceptional Novel.
Course Name: Write Your Novel (or Memoir)! The Workshop With Jack
Date: 5/15/19 - 7/24/19
Cost: $360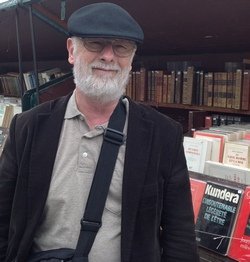 Enjoy Accountability with Weekly Writing Assignments
Plan to write up to 3,000 words each week, with helpful, constructive feedback.
Learn from an
Award-Winning Author
Get helpful, constructive feedback from a professional writing instructor with numerous published novels.
Connect with Other
Novelists
Meet with and learn from other writers with similar interests throughout the course.
Move your novel forward with expert instruction, support, and accountability.
Highly interactive: receive feedback at all stages from your fellow writers and instructor.
Ideal for writers of all levels and backgrounds.
Course structure can help offer structure for your novel's sections.
Includes a concluding guide on revision strategies.
"Jack was very encouraging and provided me with helpful feedback. His comments are friendly but also critical, which is important with writing. The class content was engaging. I've already recommended the class to a friend and will continue to do so."
—Shay Meinecke