Wendy Call  has been writer in residence at two dozen institutions, including five national parks, four universities, two visual arts centers, and a historical archive, including at Ev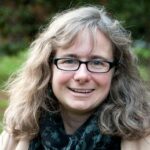 erglades National Park, Harborview Medical Center, New College of Florida, Richard Hugo House, and Seattle University. She co-edited the widely used craft anthology Telling True Stories: A Nonfiction Writers' Guide (Plume/Penguin) and wrote No Word for Welcome (University of Nebraska Press), winner of Grub Street's 2011 National Book Prize for Nonfiction. She teaches creative writing at Pacific Lutheran University in Tacoma, WA. and on Writers.com. Read her literary work at Guernica, Orion, Witness, and Yes! magazine, and her philosophy of teaching creative writing.
---
Student Comments
It was phenomenal! Immeasurably valuable to my writing progress (on too many levels to list them simply here.) The workshop far exceeded what I hoped to gain by participating. It was evident that Wendy invested an extraordinary amount of time, effort, and self in meticulous preparation of each week's lesson and supporting materials -- readings and links. Frankly, I was ecstatic to gain possession of what I now view as my Go-To CNF Primer Workshop book.... Wendy's broad range of sensibilities in responding to workshop participants of various levels of writing skills, life experience, and communication styles, was as instructive to me as the overall workshop itself.  
Mary Godfrey
Great class ! Wendy builds a sense of community with the students, provides precise individual feedback and excellent lessons. I plan to take another online class when offered. 
Janice Secord Neilson
Very happy. I learned so much. Wendy's lessons were thorough, and in addition to the information contained in the readings, she provided a reference of other websites and books to check out. The assignments were valuable. Wendy was very encouraging, answered questions quickly and with great insight. And [she] always gave detailed feedback.
Elizabeth Sharp
I was happy with the lessons and assignments. Wendy was very knowledgeable and professional. I enjoyed the weekly readings and her analysis as to how they illustrated her subjects. For me, in my phase of writing, the most valuable part was the feedback from other students. Wendy did a great job of teaching us how to give and receive feedback and it's the first time I've had other writers comment on my work. It was very interesting. Four of us have formed an online Writers Group to continue learning from each other. I would recommend this class to others. I would definitely consider another one in the future. I thought the online platform was easy to use and a good way to collaborate. Thanks!
Heather von Bargen
I was very happy with the content, lessons and assignments. I found all the material very informative. Wendy gave very good feedback and I think her insights were wise and pragmatic. For me, this was a whole new area and I'm still digesting all the amazing materials Wendy gave us to read. The course opened up a new horizon for me and I've learned so much. I would recommend the course and I will definitely do another.
Linda Master
I found the lessons in this class to be extremely informative and helpful. This was exactly the class I was hoping to take! We went over topics that I found illuminating, we had interesting readings, and she recommended several books that I ordered and am finding very helpful as well. Wendy was great. It is obvious that she is a practiced and knowledgeable writer and she had valuable insights to offer. She was a wonderful teacher to learn from. I have already suggested Writers.com classes to a friend and already signed up for another. You provide a good spectrum of classes for different writers and different interests.
McKenzie Long
I took this course specifically because it was being offered by Wendy Call, the editor of
Telling True Storie
s. I enjoyed Wendy's positive approach to each of our assignments and drafts, and I appreciated her feedback and guidance. Her tone was always encouraging, and her criticism was always constructive. I have published two books of narrative nonfiction, and I have taken other courses about narrative/creative nonfiction, but Wendy's course introduced me to new writers and readings and allowed me an opportunity to refresh my learning. I took this course to coincide with my efforts to develop a topic for a new book project. The first week's subject was how to choose a topic. The second week's subject was research techniques. As we moved through the readings and lessons for each week, I focused on my own specific project, which was very useful. The course helped me to feel as if I was not going through that process alone. As a result, by the end of the course, not only did I produce the 3,000 word piece of creative nonfiction as a final assignment, I also put together a ten page book proposal and another article for publication. I am happy to know that writers.com is there as a resource for the future. Thank you very much to Wendy and to Writers.com!!
Christa Kuljian
, author of
Sanctuary
(Jacana 2013) and
Darwin's Hunch
(Jacana 2016)
The content and assignments, especially the readings, were wonderful and eye opening. I ended up buying some of the books, including Wendy's, and really am loving using them. [Wendy] was very responsive and helpful.  
Nancy Napier