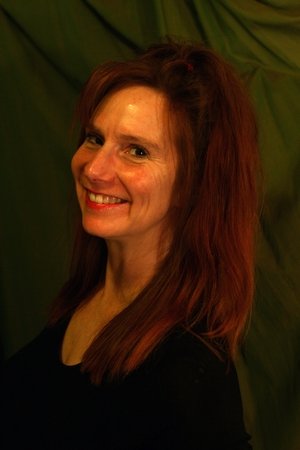 Rosemary Tantra Bensko – writing as Tantra Bensko -has a couple hundred flashes, short stories, novelettes, and a novella in journals such as Mad Hatters Review, The Journal of Experimental Fiction, Fiction International, The Fabulist and anthologies such as Women Writing the Weird I and II, Surreal South, Holdfast, Up, Do, Not Somewhere Else But Here, Looking Back, Writing Disorder 2, Redacted Stories, Quantum Genre on the Planet of the Arts, Cellar Door 111, No Site for the Saved, Cadavre Exquis, Ironic Fantastic 3, Triangulation: Parch. She also has a substantial number of poems in journals and anthologies, such as Chatahoochie Review, Carolina Quarterly, Floria Review, Hawaii Review, and North of Wakulla.
She has a few chapbooks, such as The Cabinet of What You Don't See (ISMs Press) and short story collections, such as Lucid Membrane (Night Publishing.) Her psychological suspense series, The Agents of the Nevermind, includes two novels so far: Glossolalia and Remember to Recycle. She has published other people's work through a magazine and LucidPlay Publishing, maintains a popular resource site about experimental writing.
She has won awards with both her poetry and fiction including Carolina Quarterly — the Academy of American Poets Award, two awards from Cezanne's Carrot, Punkpen, The Iowa Journal of Literary Studies award, and the Oblongata Award from Medulla Review. Nominated for Pushcart for Redacted, Blue Fifth Review, Rose and Thorn, A-Minor, and Metazen, proudly along with a piece by Richard Thomas. Finalist Flash Mob, short list Glimmertrain, top 100 flashes from Wigleaf for 2013.
She earned her MA from FSU and MFA from the Iowa Writers Workshop, teaching both places and at Memphis State. She has taught for years through UCLA X Writing Program and her own academy online. She lives in Berkeley.
---
Student Comments
I love Rosemary.  Her feedback was generous and helpful. I thought the lectures were the best so far on Writers.com. There are a few classes I'm looking forward to taking.  I really like working with Rosemary, she's wonderful.   Laura Secor
Rosemary taught me so much about using muscular language and avoiding expository narratives. The lectures were amazing. I read them all the time. Benjamin Magie
Rosemary was wonderful. Always encouraging, very kind in feedback but always pushing you on to make the draft better. It's hard to achieve that balance.  I really liked the way she recorded the feedback so that it felt more personal. I liked the  Haiku Learning website she used too. There was plenty of choice of assignment and they were interesting and challenging. Everything was useful in moving us to the goal of getting our story/stories finished. I thought the notes given were especially interesting and generous and although I am a compulsory buyer of books on writing, there was much that was new or better explained (loved the information on different types of short story - some of which I hadn't come across; and the discussion of different ways of developing the plot was very useful to me.) I ended up with what I wanted from the course - a goodish draft of a story. I see so many more classes I'd like to do!  Sharon Bakar
I loved this class. And Rosemary. I feel that I have made a transition (finally) with her and might actually have the confidence to really begin to write seriously . She is honest, constructive and has really help build my confidence. I am away at the moment but will be in touch re private classes with her. I will be interested in any class she is doing! Jeanette del Olmo
Rosemary presented her critiques in a positive light but made relevant and helpful comments. I often took a step away after reading her response to my work and then came back to revise. Each time, I felt that the changes I made improved the quality of the piece. I emailed Rosemary several times with questions, and she was quick to respond. I would not hesitate to take another class from her. I felt the lectures were stimulating and the assignments were challenging. Both forced me to engage and push myself to another level. I have recommended your site to others and hope to continue taking classes from writers.com. Janis Brams
Have you always wanted to write the perfect story? Explore your inner visions and commit them to paper? Be prepared, Rosemary Bensko will set you on fire...as a teacher she has the unique gift to be able to identify within you your innate spark of creativity and ignite the ether of your imagination, to reveal to you the magic of your words. She is that good. As a writer I can testify to the value of working with Rosemary. Growing up I have always enjoyed words. I love to spin them around, phrasing moments in time, to make them clear and born anew. And when I took her class, Rosemary got that right away and encouraged me to play with the tools of language, providing me resources to help stretch my imagination. With her tutorship, I was able to refine my writing skills while retaining the desire to honor that which flows from the heart. That is a very good thing. I wholeheartedly recommend you take this class and allow Rosemary to help you to bring your writing up to the next level... Paul Barnett
Thanks for the class. I downloaded all the lectures. I feel like MicroObstacles and Flow is a great technique. It is taking me time and thought to process... I want to really be able to apply this to my own fiction/works, so I will probably take the class again once I get more of a handle on the technique... I have taken several classes from Rosemary. I have tried to put all of her feedback into practice. My writing (and reading and viewing) craft have improved with every class. One of my pieces that I workshopped in Rosemary's classes has been published. I just feel so grateful for her mentorship and turning me on to Writers.com!... Chris Perkins