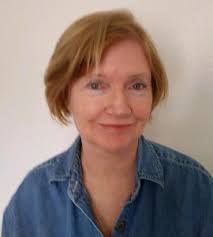 Susan Vespoli learned early on that writing is a tool to stay sane, not to mention healthy. For years, she owned and ran a Montessori school where she taught young kids, but after a mid-life wakeup call, she sold everything, moved to a cabin in the forest, and set off to earn her MFA in poetry and nonfiction from Antioch University Los Angeles.
Since 2010, she's taught adults: creative writing summer courses online through Prescott College, English classes in-person at Maricopa Community Colleges, and has led Wild Writing circles. Her poems and essays have been published or are forthcoming in spots such as Rattle, Nasty Women Poets: An Unapologetic Anthology of Subversive Verse, Mom Egg Review, Nailed Magazine, Emrys Journal, Write Bloody, New Verse News, OVS Magazine, Verse Wisconsin, Role Reboot, and Pact Press.  She's received two Pushcart Prize nominations for her poetry and is the author of two chapbooks by dancing girl press.
Since Susan is a devout believer in the power of writing to heal/transform/illuminate, she practices what she preaches with daily morning pages ala the Julie Cameron Artist-Way technique and attends as many classes and workshops in writing as she can. She was trained as a Wild Writing teacher by Laurie Wagner of 27 Powers. She lives in Phoenix, AZ with her two poetic rescue dogs, Sylvia and Frida.
---
Student Comments
Susan's class was a joy. It was well organized and interesting. Susan is a caring and very invested teacher. She was very present all during the class and her feedback was well thought and helpful. Ariela Zucker
Susan was lovely and responded in a timely manner. She gave detailed feedback... The content of this class was PERFECT. Lessette F. Altamiranda.
Susan brought together a group of strangers from all walks of life and all points on the continent, and under her calm and insightful leadership encouraged us to find our own writing styles, speak our own truths, and support each other as a community. Jennifer Burton
Susan's feedback and promptness were very professional. Her lessons are packed with information and ideas.  And, after the class was completed, she kept the site open for additional time to finish assignments, which I greatly appreciated. I look forward to interacting with her in another class! Joan Connor
This was a terrific class. The lessons were well-organized and stimulating. They had excellent "lectures" and plenty of additional resources and ideas. I will be able to refer back to them for inspiration for months. Susan was a thoughtful and resourceful teacher. She was able to nurture an especially lively and collegial relationship among the class, as we discussed the lessons and responded to each other's writing. Please encourage Susan to offer this class again! Marge Osborn
I have taken a number of courses at Writers.com and I have always found the teachers did a good job. My all- time favorite teacher is Susan Vespoli. She did an excellent job of providing readings that set a creative tone and she chose excellent prompts. She assured us that it was not necessary to use what she provided. I appreciated the manner in which she responded to our shares. At no time did I feel that I was taking a risk in reading what I wrote because Susan had created such a safe place. Jane Knox
Taking Susan's workshop helps me generate tons of ideas for my fiction writing. It also helps me write regularly. I cannot wait to join her next session. Sharon Mirza
The writing circles on Zoom have been my favorite part of this class. Being able to write at scheduled times rather than around the clock really helps me to set writing dates and to write with others. Also, I like the spontaneous nature of the writing on Zoom meetings, and being able to see and hear the other students and the teacher. Noa Granot
This class was amazing! Susan did a fantastic job with the curriculum and with keeping the group moving with discussion and encouragement. Susan created a very safe experience for all of us. She's a fantastic facilitator - providing poems and lines from those poems that somehow really tap into things for me. Andi Reed