Sarah Van Arsdale is the author of four books of fiction, and one book of poetry. In 2016, her novella collection, In Case of Emergency, Break Glass, was published by Queen's Ferry Press. Her second novel, Blue, was chosen by Alan Cheuse for the 2002 Peter Taylor Prize. She will have an essay on setting in fiction in a forthcoming issue of the AWP Writer's Chronicle, and a memoir essay in a forthcoming issue of Bayou Magazine; her illustrated essay, "The One Devious Device" appeared in The Florida Review this year.
Her poetry, essays, short fiction and book reviews have appeared in literary magazines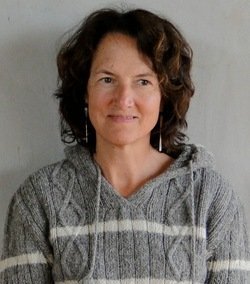 including The Writer, Guernica, Passages North, The Poetry Miscellany, The Widener Review, and The New Guard. In addition to teaching in the Antioch/LA low-residency MFA program, she teaches at New York University and with Art Workshop International in Assisi, Italy. From 2007 to 2009, with the New York Institute of Art and Design, she developed a course in creative writing. She curates BLOOM, a reading series in New York City, and she serves on the board of the Ferro-Grumley Award in LGBTQ Fiction. She holds an MFA in Creative Writing from Vermont College of Fine Arts.
Read more about Sarah on her site: SarahVanArsdale.com
---
Student Comments
Sarah Van Arsdale has a rare blend of talent for both writing and teaching. Her passion for craft opens the door for close-readings of successful pieces and brings the same level of magnification to your own work, helping to make it stronger and more engaging. Sarah writes and publishes poetry, fiction, and non-fiction, in addition to creating artwork, and from her experience in these different forms she brings an expansive perspective to what is possible in writing. As a teacher, she is supportive and dedicated to helping each student grow into their potential as writers and as human beings in the world. She is enthusiastic and generous, and continues to be a true mentor in every way possible.
Kelly Grogan
Sarah Van Arsdale is an excellent teacher; one of the very best. She is generous in sharing her copious knowledge of fiction, poetry and non-fiction techniques, and gives feedback that identifies fixable problems in her students' work. She always makes herself available to answer questions or provide more information. While she makes no bones about giving detailed constructive feedback, her notes and comments are deeply encouraging, providing suggestions for improvement while cheering students on. Whether you are just beginning a writing journey or are a long-way down the path, Sarah will help you see the light-at-the-end of the tunnel and support you as you find your way there.
Michelle Templeton
, MFA
I came to writing quite late in life. I was floundering on my own attempting to put together a memoir, and I entered the classroom feeling that perhaps I didn't really belong there making an attempt at writing. Sarah made everyone in that classroom feel comfortable. She made us feel that everyone has a voice and can commit it to real writing. Then she gave us assignments and exercises that helped us to develop our voices and put our feelings and ideas into words. It was a joyful experience. So wonderful was the experience, that I joined a writing workshop in Assisi, Italy the following summer, where she ran a class. I cannot endorse Ms. Van Arsdale fully enough.
Barbara Marcus