Jessica Festa is a Brooklyn-based travel and lifestyle blogger and the creator of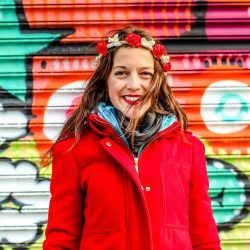 the sites Jessie on a Journey and Epicure & Culture. After obtaining her BA/MA in Communication & Rhetoric from the State University of New York at Albany she decided the 9-to-5 office wasn't for her, and instead traveled the world while building up her blogs into the sustainable businesses they are today. She is an expert on how to turn your passions into a blogging career. She has worked with with brands like General Motors, Microsoft, South African Tourism, Starwood, American Airlines, Visit Australia, Arch Insurance and many others. Her byline has appeared in publications such as Discover Magazine, Up! Magazine, Details, The Huffington Post, Business Insider, The Daily Meal, AOL Travel and more.
---
Student Comments
Jessica was great! She was willing to give constructive, useful feedback on our blog designs and topics, and I felt like she wanted us to succeed. I was very happy with the lessons and assignments. I feel that they did exactly what I had hoped they would do, which was give me a jump start with social media/blogging. -
K R Parkinson
The content itself was great and really reached far into new materials I've never read. Jessica was fantastic about responding to posts and emails. - 
Lisa Dearen
In addition to great class content, Jessie provided thoughtful, helpful and professional feedback delivered in a respectful manner.  The class was exactly the push I needed!
Look forward to taking another class with Jessie this fall. - 
Sherri Davis
Jessie was great. She was responsive to the students' needs and questions. I found her comments useful. Her care for the students came across in her advice and feedbacks. She helped me put together a reasonably good blog site (which I hope to make into a great site during the next stage of her workshop). - 
James Polk
I just wanted to thank you for all the great, thoughtful, constructive advice and hard work that went into each and every one of your lessons and discussions! I learned so so so much and had a blast doing it! I saved all of the lessons and I will be slowly finishing my business plan and starting a photography class next month which I really need. I am so glad the class was as fast-paced and jam packed with the readings and information as it was. I really thrive that way. It helped kick my butt into high gear and I am very happily blogging away! I could not be as far along as I am without your help 🙂 -
Sarah Stewart
Jessica is lovely, very encouraging, with specific suggestions to improve your work. The course content was very impressive - rather a lot in comparison to other courses. - 
Judith Worrall
Jessie is very well informed about her craft and eager to share it with others.  I appreciated her prompt response to all questions.  - 
Bonnie Rose
The class contents was amazingly comprehensive. I loved Jessica. (She) is such a well versed instructor.  She answers any and all questions with respect and fabulous information. I will be calling on her in the future to help me out with my blog. -
Kim Hanson
I really enjoyed the class. I was really impressed with the teacher's thoroughness in covering all the aspects of blogging. (Jessica) was great. Plus, she set up a Facebook group for former students, so I really appreciate that I can still check in for advice. I have enjoyed and gotten a lot from all the classes I've taken through
writers.com
.  -
Pamela Hunt
This class does have a lot of content but it is all good. Some of the assignments - like creating your categories take some serious thinking time. However, the resources, thoughts, etc were spot on. It wasn't at too low a level -it was challenging and stretched me. Something I prefer. Jessie was always incredibly helpful - responded quickly to questions and gave good insights. I realized I needed either a push or more targeted knowledge to get it off the ground. Jessie gave me both.
Kristie Wilson
Loved the class. very informative. The material, both what Jessica provided and created was well thought out. I saved everything to look through at a later time. Like you said, there was a lot of material to cover. Jessica was great. Very personable and approachable. I had no problem asking straight forward questions. And I appreciated the honest answers I got in return. I've taken several classes of yours before. Four I think. I would, and have recommended your classes to other wannabe writers I know. Keep at it. The content, class choices and teachers have all been very good so far.
Loring Felix