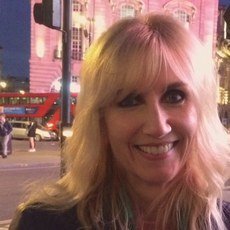 Gretchen Clark has been a freelancer for an online naming company and a creative arts mentor for abused children in the Phoenix area. Her essay Pink Chrysanthemum was nominated for the Pushcart Prize.  Her work has been published in Hamilton Stone Review, 94 Creations, Writer Advice, Literary Mama, Hip Mama, Flashquake, Blood Lotus, Foliate Oak, Skirt!, Word Riot, Quiet Mountain Essays, 34th Parallel, New York Family Magazine, Pithead Chapel, Switchback, Underwired, Toasted Cheese, Celia's Roundtrip, Brevity, River Teeth, Flashquake, Tiny Lights, Ray's Road Review, Cleaver Magazine and Hippocampus, among others.
---
Student Comments
Definitely very happy with class content. Gretchen's critiques are so, so helpful. I liked the way Gretchen set up the class so that we were able to choose from many options for our assignments. We could revise an essay or write a new one. As a teacher, Gretchen is like chocolate cake with two scoops of vanilla ice cream. Can't get enough of her. I would take any class Gretchen offered. Caroline Commins
Gretchen was wonderful—positive, understanding, and helpful without being negative or overly critical. Her comments were insightful and extremely helpful to me. She clearly put a lot of time into reading and responding to our work, and I am SO thankful for that! Kathryn Martinak
This course helped me expand my understanding of what an essay can be, and encouraged me to push myself to try different forms of expression. I learned a lot from my fellow students and the instructor and received excellent feedback on my writing. I learned so much from Gretchen's lectures as well as from her comments, not only on my writing but on my fellow students' writings as well. Elizabeth Speziale
Gretchen seems to have a way of seeing things in my writing that I overlook; a series of details, a recurring theme, an underlying emotion I have yet to discover within myself. Her critiques are always thoughtful and thought provoking. She takes the time to read and respond carefully, challenging ideas and questioning my writing while encouraging and offering support. When I was looking for more personal and in-depth editorial critique, it was Writers.com and Gretchen that I turned to. Having taken the Personal Essay class, I knew that she would grant me the time and attention that I was seeking. She seems to have unlimited patience to answer questions and hash out ideas. Working one-on-one with her has provided me with a forum and a conversation about my writing. She is an invaluable teacher and editor.
Gretchen has great ideas and gives coaching feedback as well as praise. It was exciting to learn about new forms in essay writing and how the form can help carry the story. The group of writers was helpful and positive in providing feedback to each others; I really enjoyed the experience of the community. Karen McCall
I was recently offered my own bi-monthly column in Blue Water Sailing magazine. Writers.com and private time working with Gretchen has certainly contributed to my work improving enough to be given that opportunity. Heather Francis, yachtkate.com
Gretchen was extremely diligent with her feedback and it felt like nothing I wrote went unnoticed. She took the pains to respond equally diligently even with the re-posted material. Her feedback made me want to write more. Mannu Kohli
I loved this course. Gretchen provided me with really helpful feedback and I appreciate how open she was to discussing the works in progress. I wrote ten pieces I want to keep working with and submit to journals, and want to keep playing with the form. I definitely got my money's worth and am happy with the progress I made in the course overall as a writer. Nicole Breit
Do you have a couple hours? Because that is how long it would take me to sing Gretchen's praises. Every piece she has helped me with, let's make that six, has been accepted for publication. All told, actually, I've received 11 acceptances within a relatively short time span for a writer who has just recently begun to submit her work. ... It isn't just that Gretchen is a gifted writer and teacher/editor, she possesses unusual insight. She reads with many eyes, ears, and hearts and on many different levels. She is present to the reading like a psychoanalyst is present to her patient's free associations: unbiased, unattached, letting herself be moved or struck by anything and everything. ... And she is patient and kind and even when her suggestions maddened me because they forced me to think and feel myself more deeply into my story, she was, 98% of the time, right on. ... What more can I say. I just love working with Gretchen! Pat Heim
Though Gretchen included specific assignments with each week's lecture...they were given to us as suggestions and for inspiration, but we were always free to go off on our own and write whatever caught our imaginations that week. I was also very pleasantly surprised at the high level of talent among my classmates in this course. ... Your classes allow every student to write and post something each week, not simply once or twice during the course, as other classes do. Elaine Kehoe
I thought the lectures were thoughtful and inspiring and I liked that the assignments were flexible in that I could write about anything that I wanted, but Gretchen gave us prompts for if we needed some ideas. I also liked that she provided some optional readings and referenced other books on writing, I ended up doing a lot of outside reading which was very helpful. I did feel like I learned a lot..... Gretchen was excellent. Her positive tone was just the thing to keep students in the class encouraged and motivated. She was also very willing to answer any questions students had and seemed to tailor her critique to what students were asking for, which was wonderful. Overall I felt that she was approachable and was there if I wanted to ask anything. McKenzie Long
I've taken several other on-line writing classes with other schools and this unique approach was the most interesting and challenging of all. I thought the teachers were the freshest and most thorough in the time they put into their critiques. I totally enjoyed the class. I would do something unique with these teachers again. Eve Bandler
I was very happy with both the class content and the teacher. Gretchen's comments on my essays were insightful; she offered suggestions that I would not have thought of on my own. This was my first online writing class, and I will take another. Thank you so much! Kim Baumgaertel
Gretchen's writing and her lessons are superb and she's a great teacher. I learned a ton from her. I had never heard of the lyric essay before. Gretchen gave me a thorough understanding of it - and lots of practice. Bonnie Gold
Gretchen was great, and always available for questions/clarification. I am definitely driven by challenge, and felt that Gretchen has a good way of keeping you on your toes and helping you to consistently improve. Lessons were inspiring and assignments perfect for challenging the creative side of the brain. An advanced lyric class would be awesome! I would recommend the class to anyone interested in writing. I have signed up for several classes through November. Jenifer Patureau
I loved the class. The Lyric Essay is/was/and shall continue to be a favorte of mine now that I've taken this class. The freedom to manipulate material in new ways, soak words with lyric structure, really came through. Feedback was personal and always offered ways to take a piece to another level. Rewrites were encouraged and feedback was prompt and insighful. Keep those new classes coming so I can continue to write on your site for many years to come. Joanna Johns
This course is terrific. The lessons are creative and inspiring--just look at the lecture titles! Gretchen is smart, kind, and encouraging. Her critiques are full of insight and ideas for taking the writer a step or many steps further. I keep recommending writers.com when I talk w/ friends. I'll be back for another class. Marge Osborn
Creative, inspiring, motivating, delightful, fun. <Gretchen's> lessons were written with so much imagination and creative juice. It just made you rub your hands together and want to dive in. She was encouraging as well. I have considered taking *this* class again! Tatyana Sussex
Gretchen's class was really great!The Lyric Essay was one of the best courses I've taken from Writers.com. I would like to take a "Lyric Essay 2" course. Caroline Commins
The class was wonderful. Couldn't have had better teachers. Wonderful about letting us veer in our own directions at times. They provided a very nurturing environment for everyone. ... Their comments were very helpful and clearly they know their stuff. ... I would absolutely take another class from either instructor. I can't give them a glowing enough review. ... This is the way you dream a class will work. David Ladd
This was my first online course, and I'm very glad I took it. I feel that the tuition was money well-spent and I emerge from this experience wiser about the subject and very much encouraged to continue my writing using techniques I learned in class. Jean Dutton