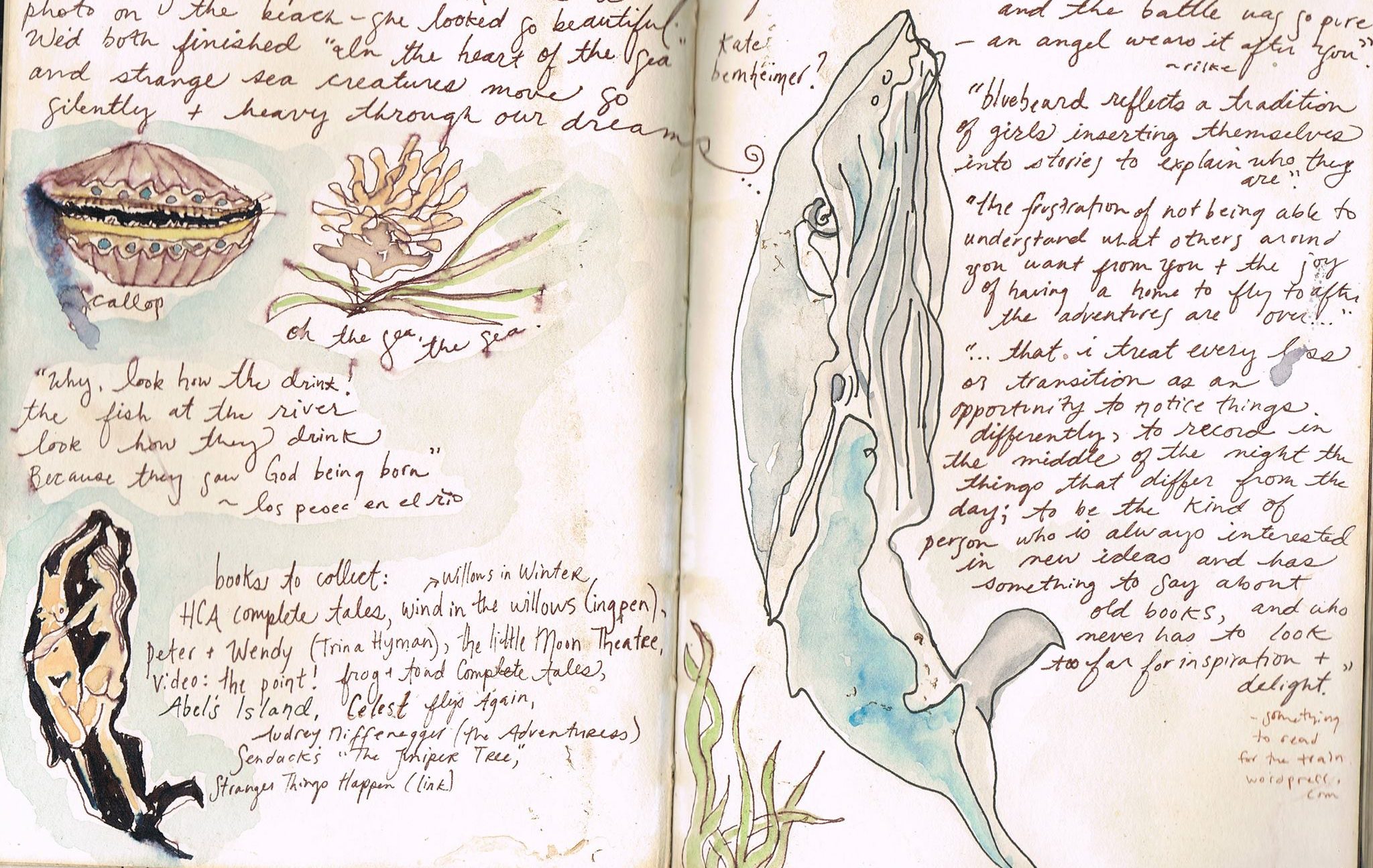 March 11, 2020
$315 | 8 Weeks
Overview
These fragments I have shored against my ruins… T.S. Eliot, The Waste Land
Sometimes the stories we have to tell do not meet the criteria of journalism or story-telling. Sometimes our stories are broken. We are usually taught to sweep up the pieces and fit them nicely together again. But in this class, we value the fragments and what is fragile. In these, we find insight to give us courage, light, or value-added for every day. We let our stories be "told" in unlikely ways, dropping previous associations with the word "journaling." In this class, our "stories" bleed into a hurried sketch, random phrase, wrinkled snapshot, found object, and/or color as we document the story of an instant, a moment, a day, a journey. We use words and images together to say what neither can say alone.
 Creating the Visual Journal will allow you to amplify what may seem insignificant, fragile, or even absurd. A blank page is an infinitely useful space to explore, so get ready to think beyond the day-to-day diary format. We will indulge in frivolity and fragmented techniques to highlight even the dark or broken moments of life. Visual journaling is for everybody, even if you've never left home or dipped a brush into a palette.The only prerequisite to this class is a willingness to embrace your eccentricity.
---
Student Comments
This was by far the best online class I have taken. Lissa is an amazing instructor: positive, professional and perceptive. I loved everything about the class and wish it were offered more regularly — even a part 2. - Linda Roehl
The content was wonderful. Each assignment seemed to build on the one before as well as create a space for the unexpected to arrive... I really value, Lissa. She takes the time to respond and guide each student according to their needs, who they are and encourage them to grow in the directions they are showing wether they are aware of it are not. Very Insightful... I have taken this class twice and have grown exponentially-- the assignments, although the same, touch me in different ways since each time I am never in the same space. So meaning and inspiration are different... I really love the classes and space writers has created. When i cone across people with an interest in writing, I spread the word. - Tanya Reiss
Creating the Visual Journal was terrific. Lissa Jensen is so creative, encouraging, and enthusiastic about the idea of expanding written journals with expression in art--art of many types and in many different mediums. The lessons and assignments were thoughtful and stimulating, and with her tremendous artistic background and talent, Lissa helped enrich each lesson with examples of her own work, work of other artists, and ideas about how to work with different materials... I think any writer who has not yet used art to enrich journaling would learn a lot from this class--as would anyone interested in exploring new ways to meld visuals with words in a friendly, collegial setting. Thanks so much for this wonderful opportunity. - Marge Osborn
Lissa was great. She created a very positive and caring environment for people to share their work and spent a great deal of time and energy reviewing and giving great feedback to each and every student. This is a great class - and lots of fun. I have gotten soooo much from your classes. - Cherie M Sands
Lissa was amazing, extremely dedicated, talented, thoughtful and knowledgeable. - Paula Lowenstein-Boano
Lissa was very encouraging and appeared genuinely interested in what the class created. I felt a connection to her. The feedback was the most detailed I've ever received considering that I've taken many online courses over the years. She sparked new ideas for me to explore and I continue to do so. I regularly look back on the pages I created and feel proud of what I achieved. - Helen Whitaker
Lissa Jensen was excellent.She is a great artist and teacher. I appreciated the progression of assignments.  I learned a lot of art techniques that I actually applied.  Lissa was clear with her direction and showed great creativity. I now have a journal that I am proud of...and, some day will add to!  I have certainly benefited from all classes I have participated in. I always recommend writers.com to everyone interested in writing. - Linda Kirsch
Lissa was a very encouraging and inspiring teacher, taking a great deal of time and trouble with our work and questions. - Joanna Paterson
I thoroughly enjoyed the class with Marlee LeDai and Lissa Jensen.  They were outstanding teachers on every level, from giving extensive and encouraging feedback to providing an enormous wealth of ideas and materials for guidance and inspiration. I would very much like to take future courses with Marlee and Lissa. I am impressed by the range and quality of the Writers on the Net courses and have recommended them to others. - Winnie Hayek
I really loved the class.  The teachers and the content materials and their suggestions were awesome.  I thought it was brilliant to have an art class that blended writing or not depending on where we were as students.  That was a great assistance. I discovered things and connections that the art allowed me to discover that words would have never ever allowed me to touch and explore. I think its a great part of writers.com. I hope you have more classes like this. - Tanya Reiss
Creating the Visual Journal with Lissa and Marlee was the most amazing class I've ever been a part of, in my whole life!  I could have never imagined what new ideas, art and writing the class brought out in me. Lissa and Marlee are the nicest, most talented and inspiring people.  They created a magical, loving, encouraging and thought provoking environment. Only in this space could such a wonderful community have developed. The way I see writing and art will never be the same! I learned so many new things that I would have never come across. I highly recommend this class for ANYONE, who would like to create new things in any medium at all / discover new things about yourself / experience life with new perspectives. - Maytal
Class Outline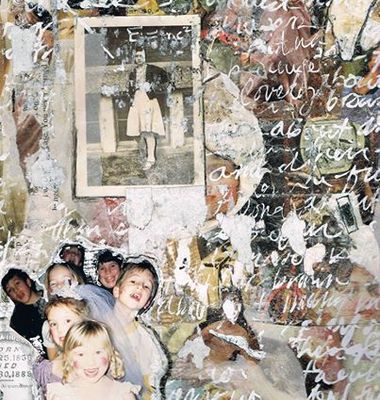 Week One: Outsider Art: Journal and Supplies
We dispel journal "myths." We begin to document our life experience through journal-keeping as creative alternative, even with minimal words. We develop and practice ways to incorporate both writing and artful intention. Suggestions will be offered on journal materials, paper, useful supplies and cheap creative options for using them.
Week Two: From the Beginning: Continual Awareness
Through creative intention we begin to "move out of our own way;" allowing life to tell its stories one day at a time. Using the "Third Eye," we take inventory of what passes through the head or the heart, external experience with internal process. Get out of ruts. See with invigorating perspective. Create a journal enhancing process and insight.
Week Three: Explore Place
Visual journal artists like Dan Eldon, ("The Journey is the Destination," published posthumously by his mother, Kathy) and Sabrina Ward Harrison ("Spilling Open") allow physical geography and inner geography to merge in mesmerizing ways. This week we discuss how to recognize and express our own insight about life as well as our relationship to our own truth. What do you want to remember and perhaps pass on to others? How might your message be carried visually?

Week Four: The Art of Experiment: Put it to Work
We indulge in putting daily inventory of life, activity, thoughts, feelings, and intuition to work on the page. We experiment with fresh visual techniques using supplies and found objects. We place text in the context of space, color and form? We practice daily or weekly habits to notice the present, remember the past, imagine the future. We layer these with color, snippets of quotation, poetry, and conversation.
Week Five: Active Imagination
Active Imagination is a Jungian method of bringing the unconscious to the surface. We concentrate on taking a step further so that rather than merely being propagators of content, our content teaches us. We continue to practice the art of inventively recording the truth of our everyday life.
Week Six: Go Dada
Hone in on fragmentation of experience as we layer writing with visuals. Experiment with non-traditional ways of expression like cartoon, collage, doodle, exposition, texture, and sensory relief. How many ways are possible to express yourself in the layers of your journal? How and when will you use these ways?
Week Seven: Excavate
We study ways to weave memory of past experience into our practice, including supposedly insignificant happenings or trivial interactions with life. How does memory permeate even our present lives and how might we embrace memory as spiritual content? How might memories deepen the practice of simple observation, and how, when encountered, might we weave them into our journals?
Week Eight: Taking the Reins
In an open inspirational forum, we discuss what worked, what didn't, what we loved, did not appreciate, and/or what we wish might have been. We will post the last page or pages of our journals, or pages that we did not have time to post previously, celebrating the creative impact of being here together.