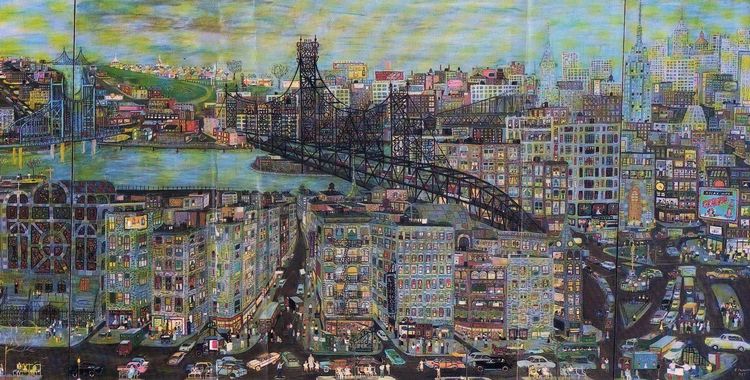 The Craft of Poetry
Some say they hate poetry because they "don't get it." There's a good reason for that feeling: academic courses in poetry tend to give the unfortunate impression that when Shakespeare died, poetry died with him. Who could blame these people for not liking poetry? If poetry ended 500 years ago, I probably wouldn't care much about it either.
But poetry is alive and well. Contemporary poets can be touching, terrifying, and laugh-out-loud funny at once. This course isn't about "thee" and "thou." Contemporary poetry is, above all, about human experience: our experience, today.
The poet William Carlos Williams described a poem as "a machine made out of words." My aim in this course is to help you become a literary mechanic. We'll take apart poems to see how they work; we'll tune the parts and put them back together even better than before. We'll explore a wide range of contemporary poems (plus a handful of older classics), focusing on what makes them tick and how we can adapt those techniques to our own writing.
While our focus will be on poetry, the techniques we'll explore apply just as well to fiction, and I definitely encourage prose writers to check out the class. We'll spend time looking at how poems tell stories, and we'll check out the blurry/imaginary line between prose poetry and flash fiction.
By the end of this 8-week class, students will:
Have a strong sense of what you like in a poem—what matters most to you as a reader and as a writer? What do you want your writing to do?
Understand all those terrifying poetry terms like trochaic pentameter and volta—and see why they're much, much easier than your English teacher made them sound.
Learn to "read like a writer": take apart any poem (or story or essay!), figure out how it works, and learn to make its techniques your own.
Write and revise 7-8 new poems and learn where and how to publish them, if desired.
Above all, we'll have fun along the way—if writing poetry wasn't a pleasure, nobody would write it.
COURSE OUTLINE
1. What We Talk About When We Talk About Good Poems
Carefully study a favorite poem. Write a 500ish word overview of the craft elements that make it work.
2. Speaker/Author/Listener
Adapting the techniques discussed this week, write a poem in a voice obviously not your own: a stapler, a giraffe, Napoleon, etc.
3. Show Don't Tell, or, Everything You Ever Wanted to Know about Imagery but Were Afraid to Ask
A twist on a classic writing exercise. Write two short poems that each describe a barn…
4. Go In Fear of Abstractions? Metaphor, Simile, and Conceit
Taking as examples the poems discussed this week, write a poem in which an abstract idea (love, hate, drunkenness, etc.) is made concrete through metaphor.
5. Lineation and You
1) Choose one of the poems written in the previous weeks and re-lineate it two new ways. Which of the three versions do you think works best and why?
OR
2) Write a poem that uses a different lineation style than you usually use. If you usually write very short lines, try very long lines. If you usually break lines at syntactical breaks, try breaking the line against the syntax, etc.
6. Rhyme and Meter: How They Work and Why You Should Care
Write a poem in one of the following:
Blank verse
Iambic tetrameter quatrains
Iambic pentameter couplets
Pay attention to how your subject matter guides your formal selection, and how the formal requirements affect the content of the poem.
7. Prose Poetry and Flash
Write a prose poem/flash fiction. How does your approach to writing change when working without line breaks?
8. Poem as Argument, Poem as Story
Write a poem that makes an argument without ceasing to be a poem.
Bonus Content: The Literary Workman –  Revision and Publishing
Look back at what you wrote during this course. Revise as many of the poems as you'd like, focusing on making specific craft improvements. Once you're satisfied, consider submitting one (or more!) to a literary magazine using the best practices discussed in the bonus course pack.
---
Student Feedback for Instructor Rosemary Tantra Bensko
Rosemary is the real thing. She is experienced and knowledgable, tough and fair, thorough and completely supportive. It's clear that she understood what I was trying to do; she supported that. Anne Hodges White
I love Rosemary.  Her feedback was generous and helpful. I thought the lectures were the best so far on Writers.com. There are a few classes I'm looking forward to taking.  I really like working with Rosemary, she's wonderful.   Laura Secor
Rosemary's feedback was prompt, copious and direct. She was very honest with her comments without being harsh or negative. Her enthusiasm was contagious and she continuously pushed me to grow and get better. I was also blown away by the breadth and depth of the lectures and associated learning material. Rosemary's resources will offer me months if not years of further study. Marcus Hilgers
This course was challenging and fun. Rosemary's critiques were very helpful and I am a better poet thanks to her constructive and encouraging comments. It forced me to write each week and that was good for my body and soul. Gwen Morden
I was thrilled with my first course with Writers.com and with my instructor, Rosemary Bensko. This was a way for me to begin writing regularly with support and feedback and I learned so much more than I had anticipated. Rosemary is a wealth of knowledge and experience, and gives generous, positive feedback that is also direct and useful. I wanted to grow my skills and I felt like I did. I was so happy that I started another course the very next week! Julie Gibbs
Rosemary is brilliant, engaged, gives both inline and general feedback and even includes audio feedback for tackling certain problems in your writing. I learned where my writing belongs and in what genre I was able to write. Rosemary is an inspiring teacher; I'll be delighted to take another of her classes. Sophie Cayeux
Rosemary taught me so much about using muscular language and avoiding expository narratives. The lectures were amazing. I read them all the time. Benjamin Magie
Rosemary was wonderful. Always encouraging, very kind in feedback but always pushing you on to make the draft better. It's hard to achieve that balance.  I really liked the way she recorded the feedback so that it felt more personal. I liked the  Haiku Learning website she used too. There was plenty of choice of assignment and they were interesting and challenging. Everything was useful in moving us to the goal of getting our story/stories finished. I thought the notes given were especially interesting and generous and although I am a compulsory buyer of books on writing, there was much that was new or better explained (loved the information on different types of short story - some of which I hadn't come across; and the discussion of different ways of developing the plot was very useful to me.) I ended up with what I wanted from the course - a goodish draft of a story. I see so many more classes I'd like to do!  Sharon Bakar
I loved this class. And Rosemary. I feel that I have made a transition (finally) with her and might actually have the confidence to really begin to write seriously . She is honest, constructive and has really help build my confidence. I am away at the moment but will be in touch re private classes with her. I will be interested in any class she is doing! Jeanette del Olmo
Rosemary presented her critiques in a positive light but made relevant and helpful comments. I often took a step away after reading her response to my work and then came back to revise. Each time, I felt that the changes I made improved the quality of the piece. I emailed Rosemary several times with questions, and she was quick to respond. I would not hesitate to take another class from her. I felt the lectures were stimulating and the assignments were challenging. Both forced me to engage and push myself to another level. I have recommended your site to others and hope to continue taking classes from writers.com. Janis Brams
Have you always wanted to write the perfect story? Explore your inner visions and commit them to paper? Be prepared, Rosemary Bensko will set you on fire...as a teacher she has the unique gift to be able to identify within you your innate spark of creativity and ignite the ether of your imagination, to reveal to you the magic of your words. She is that good. As a writer I can testify to the value of working with Rosemary. Growing up I have always enjoyed words. I love to spin them around, phrasing moments in time, to make them clear and born anew. And when I took her class, Rosemary got that right away and encouraged me to play with the tools of language, providing me resources to help stretch my imagination. With her tutorship, I was able to refine my writing skills while retaining the desire to honor that which flows from the heart. That is a very good thing. I wholeheartedly recommend you take this class and allow Rosemary to help you to bring your writing up to the next level... Paul Barnett
Thanks for the class. I downloaded all the lectures. I feel like MicroObstacles and Flow is a great technique. It is taking me time and thought to process... I want to really be able to apply this to my own fiction/works, so I will probably take the class again once I get more of a handle on the technique... I have taken several classes from Rosemary. I have tried to put all of her feedback into practice. My writing (and reading and viewing) craft have improved with every class. One of my pieces that I workshopped in Rosemary's classes has been published. I just feel so grateful for her mentorship and turning me on to Writers.com!... Chris Perkins